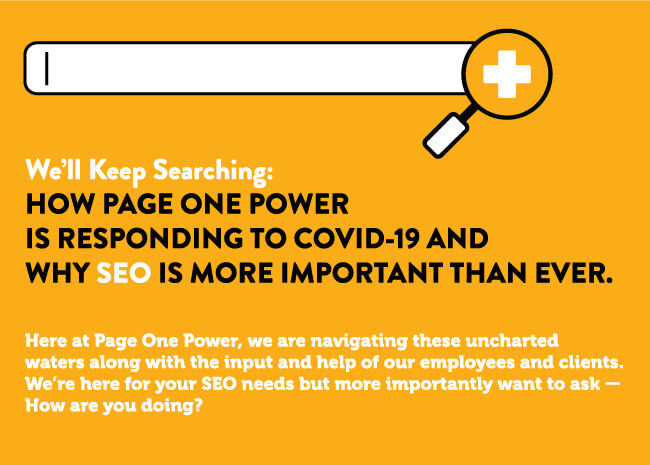 This is tough. As I write this post, I can't help but think of the millions of people in our country and around the world who are struggling and hurting. And the healthcare workers who are putting themselves at risk, battling exhaustion, to try to save lives.
And I'm afraid.
I'm afraid for my parents. For my immunocompromised wife. For what this pandemic will do to our economy and what that means for my company and my family. For the uncertainty ahead.
Still, I want to write this post because I feel it is important, and it provides some sense of control…because it's my job.
In this post, I want to share what we're doing at Page One Power during these difficult times to try to help, inform, support, and yes, continue to earn your business and trust.
Here we go.
Keeping the SEO Community Connected
One of the first things we identified as a team here at Page One Power that we could impact in a positive way was the morale and connectedness of our wonderful SEO community. This community has always thrived on openness and collaboration — after all, it's not like Google just gave us instructions on how to rank websites, that came from many SEOs from across the industry testing and experimenting and sharing findings with one another.
We think that's pretty cool, and with all these events being canceled, and employees being sent home for isolation, we felt a gap was forming that threatened to diminish our community's sense of togetherness.
So, we came up with "SEO From Home".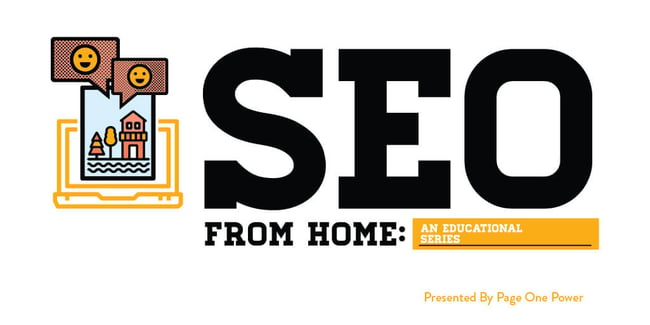 SEO From Home is a series meant to keep the SEO community connected and engaged through live, educational events. These sessions are hosted by us, but feature presenters and panelists from across the SEO space, sharing knowledge and expertise to help us all grow together.
But these events aren't just intended to inform, we are hosting them live in an attempt to maintain some level of human connection as we are all physically distancing ourselves to protect one another.
We hope you join us for these sessions and find value (both educational and emotional) in the experience. You can visit our page here to learn more and see both upcoming and past SEO From Home presentations.
The Importance of Continued Investment in Search
As I mentioned before, with the current climate, it's difficult to focus on "business". With so many mounting concerns in the world competing for your attention, thinking about which keywords your website ranks for may seem trivial. But it's not.
Beyond the fact that more people are online right now because of self-quarantines and working from home, search is a long-term investment that provides sustainable access to your customers. It may be hard to visualize now, but we will get through this.
And when we come out on the other side, you'll want your business to be positioned to rebound as quickly and as smoothly as possible — this means you need to be investing in search now, to the extent possible. The work you do now — optimizing existing pages, creating new pages, securing relevant backlinks — will position your website to thrive once things begin to normalize and we recover economically.
Furthermore, if your competitors do pull back on SEO, it gives you an opportunity to make significant gains on them.
For more on the value of continued investment in SEO, I recommend reading this article from Search Engine Land.
We Still Want to Serve You
There are tough times ahead, no doubt. But we still want to partner with you to help you grow your organic search presence. As a business that supports ~100 employees we, of course, want to continue to take care of them, so we have made some changes to adapt to the current climate and make it easier to work together.
First off, we made the decision to go fully remote with our team weeks ago to combat any further spread of the virus. We were extremely fortunate to be able to switch quickly to a 100% remote environment with minimal friction. This decision is intended to protect our employees and the greater public, but it's one that we want you to be aware of as our Project Managers will now be managing your campaigns from home as well.
Secondly, we're offering discounted services for new clients to try to offset some of the difficult financial issues you may be facing. If you're a new client, you'll receive 500 dollars off each of the first three months of your campaign (1,500 dollars total). Learn more about this offer here.
Finally, if you want to connect with me personally, I have opened up my DMs on Twitter and would be happy to help however I can, be it SEO advice, content marketing tips, or just to share memes — we're in this together and we need to lean on each other emotionally and mentally until we come out on the other side of this stronger than before.
Thanks for reading and I hope you and yours stay safe and healthy — we're all in this together.