Welcome to another Linkarti Roundup! Once again this we'll be featuring the best link building articles published this week, The Spam of the Week, and the winner of our second ever caption contest.
We (and by we, I mean Dustin Verburg) asked Tad to participate in our Link Building Success Stories of 2013. Unfortunately, Tad was swamped and unable to participate. However, Tad still wanted to share his story - and does so here. He writes great stuff, and I would recommend checking out his blog. In typical Tad fashion, he declares his biggest success of 2013 to be independence from Google. Nothing to sneer at. Bonus: check out his follow up post here!
2. Matt Cutts addresses just "What is a paid link?" in his latest Webmaster help video.

Longer than normal, this video goes deeper into a 7 and 1/2 minute explanation. The conclusion? Well, "the vast majority of the time, things are incredibly clear". When it's not so clear? It comes down to monetary value and intent. It's worth the ~eight minutes of your time to watch.
This monster post weighs in at nearly 5.5k words and is more than a match for Panda. It's actionable, specific, and insightful - a wonderful combo. IMO Dundee should just hire Hitreach to clean up their site, based on this post.
If you're currently using - or interested in - the Positionly SEO suite, you should check out this post and their new improvements.
Brian tells the very interesting story of how he got into SEO and link building. Beyond that, he shares great information about how you should be building links. If for no other reason than to hear his story you should check it out. It's both inspiring and fascinating!
The Spam of the Week
This weeks featured spam is a nice hunk of blog, featuring classic irrelevant posts, lack of theme, no about page information, thin content, and keyword rich links shoehorned in. Check it out here: http://cosmeticsbuyingreviewsite.com/about/.
Caption of the Week
Last but not least, we have caption of the week. Our own Jesse Stoler had the good grace to steal the famous image from the Oscars. Thomas, an ever-eloquent Team Lead for Page One Power, came up with this clever caption: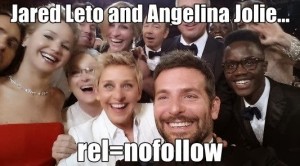 And that's this weeks roundup! Have anything to contribute? Want a piece of content considered? Or want to join in the fun for next week's caption? Look no further than our Link Builders Google+ community