Welcome to another addition of the Linkarati Roundup. This week we've decided to expand the roundup slightly to include two new sections: Spam of the Week and Caption of the Week.
Spam of the Week will be a link to an old website/page hosting spam content/link building tactics. We already highlight intelligent and thoughtful SEO/link building content you should be reading each week - now we'll include examples of link building activities you should certainly be avoiding and hopefully get a smile from. Maybe even a tinge of nostalgia as well - depending upon how long you've been building links.
Caption of the Week is our new method for blowing off a little steam over at our Google+ Link Builders community. Each Wednesday we'll be grabbing an image pertaining to SEO in some manner and having a meme caption contest. Winner will be highlighted here each week.
Let's jump into it.
This post is brilliant. If you're looking to learn more about technical SEO, want to see a professional audit, an in-depth backlink analysis, or simply interested in sports, this article is worth your time. It's a long read, but chalk-full of potential insights.
This truly was a spectacular expert roundup, including the likes of Aaron Wall, Rae Hoffman, Julie Joyce, Rand Fishkin, Dr. Pete, Barry Adams, Eric Enge, etc. etc. If you're interested in reading what many thought leaders think about the future of links and Google, you should definitely set aside time for this post.
Having said that, the questions are definitely slanted toward links losing their status as a strong ranking signal in the potentially not-so-distant future. The responses of the participants are insightful, intelligent, and interesting. I highly recommend you read this, but remember: take it all with a grain of salt. Even the experts don't know the future.
This in-depth walk through from Patrick Hathaway showcases how you can work to remove an unnatural link penalty without spending a fortune, money wise. It will still take time, but Hathaway's guide is easy to follow and to the point, and should be a considerable resource for anyone looking to remove an unnatural links penalty themselves.
4. Matt Cutts announced that the Webspam team just took action on two Polish link networks.
Not done with Germany yet, but we just took action on two Polish link networks + a reminder blog post: http://t.co/p4tHWx5vHF

— Matt Cutts (@mattcutts) February 24, 2014
A good reminder that link networks and black hat SEO is always a risk. If you can't afford to be out of Google, you shouldn't be using these methods.
Sorry for the shameless plug - the eBook is available with a newsletter signup or tweet. We worked hard to create an industry resource. If you're looking to learn more about link building, or just want a peek into agency life, this is worth your time.
Spam of the Week
The first ever spam of the week highlights spammy guest posting, in honor of Cutts fairly recent "Stick a fork in guest blogging" post. This blog is a throwback to scalable link building tactics designed to manipulate search rankings. It has a bit of everything: irrelevance, stuffed links, poorly written content. Check it out: http://astrologyrecessionbusterprices.com/.
Note: this isn't our attempt to call anyone out. This blog has been dead for 18 months, and since it appears to be inactive/out of date, we felt it was safe to share. Hope you enjoy.
Caption of the Week
Our little attempt at humor over in our G+ Link Builders community. This week we pulled an image of Matt Cutts from his most recent Webmaster Video, and allowed creative genius to run wild. The first week's winner is Kirby Hopper of Kirbyworks SEO with the fantastic caption: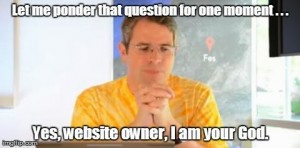 Many laughs were had throughout the office. If you'd like to see all the others (there really were quite a few worth a chuckle - it was a hard choice) head over to the community and check it out!