Welcome to another Tutorial Tuesday! Let's talk hashtags.
This week I'm going to walk you through a couple of nifty features in Hashtagify.me, which pulls data based on hashtag usage in Twitter and Instagram.
Welcome to another Tutorial Tuesday! Let's talk hashtags.
This week I'm going to walk you through a couple of nifty features in Hashtagify.me, which pulls data based on hashtag usage in Twitter and Instagram.
There are several uses for this tool that you might find interesting (content ideation, industry research, finding influencers, etc.), but I'm going to drill down onto how it can help you find popular hashtags to help you promote content.
Hashtagify.me is a freemium tool which means that you can get a good deal of usability without paying a cent or giving up any of your info. For the purposes of this tutorial, you'll need an account so that you can get access to the basic functions of the tool. All you need is to enter your email address. I can't speak to what goodies lay beyond the the "Pro" wall, but please feel free to report in with your experiences with the paid version in the comments below.

Before we move on, it's important to note there are definite limits to Hashtagify.me.
It can only report on 1% of all tweets because that's all Twitter allows access to for free.
It's a Twitter search engine with a newly added Instagram functionality, i.e. it doesn't draw from Facebook or anywhere else you might see rogue hashtags dallying about. [As of March of 2015, Hashtagify creator Daniele Mazzini said that they were working on integrating Facebook and Instagram, so they're halfway there.]
The biggest drawback is that it doesn't currently weed out influencers who buy their shares and followers. This leads to the influencers tool, and sometimes even the hashtag comparison tool, being compromised by spammy profiles.
Despite these few hiccups the tool itself is fantastic-- just not always the data it's pulling.
So to get started, type "Hashtagify.me" into your browser. When you open Hashtagify.me, this is what the homescreen looks like: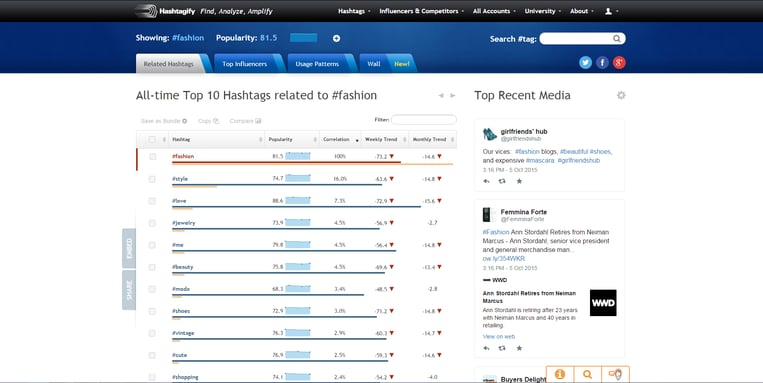 You'll likely get the insta-result of "#fashion", as well, unless Hashtagify.me just happens to know about my commitment to high fashion. (Kidding. I'm wearing jeans and a t-shirt with turtles on it.)
So let's get going on a topic we actually care about: zombies. Why zombies? Because Halloween's coming up. And because it's distinctly more fun than #birdwatching.
Step 1: Type your hashtag into Hastagify.me's search bar
The hard part is identifying what topic you want to start with. Broad topics often yield the best results because they can point you towards niches that are legitimately interesting to your intended audience. This means that you need to understand your topic well enough to distill it down to a single word (that you suspect could be used as a hashtag). Honestly, you might need to experiment a couple of times to get a hashtag that's just right.
Type your topic into the search bar in the top right-hand corner of the screen and hit "enter":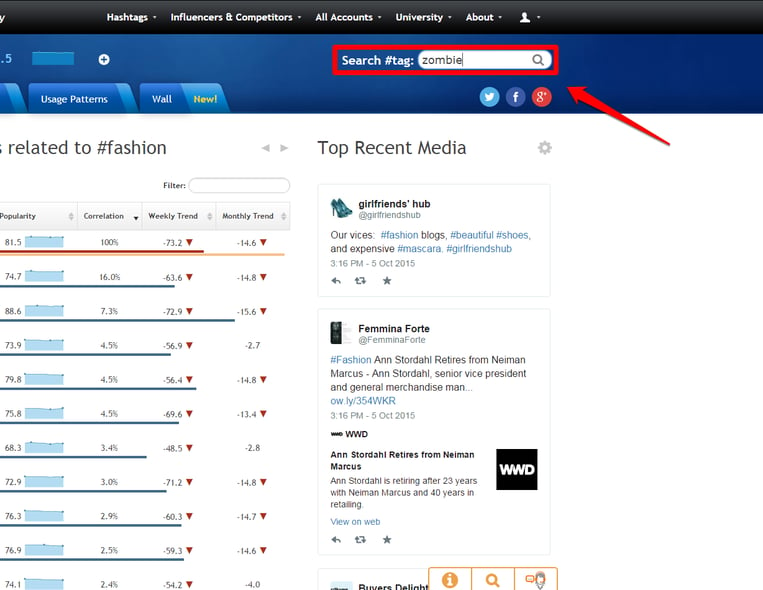 This will bring you to a new version of the home screen built around your chosen hashtag. Let's run through the main features of this page, so you know what you're looking at: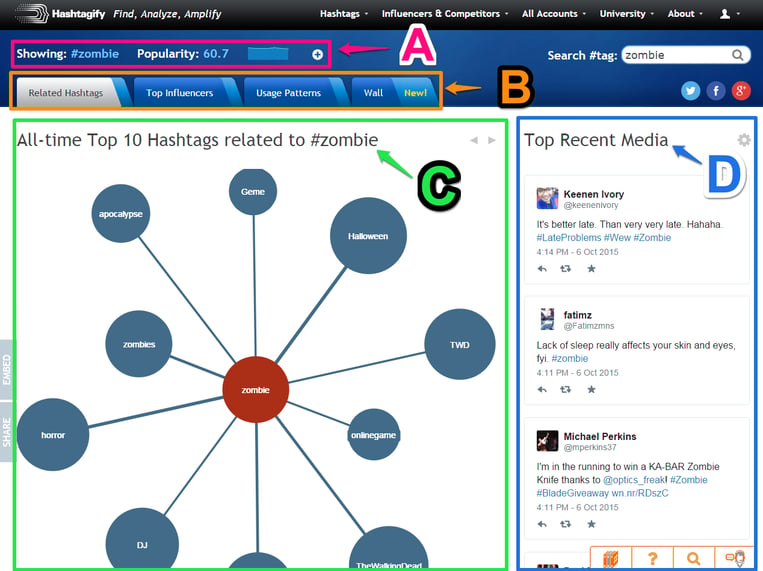 Popularity rating-- This number illustrates how your chosen hashtag compares to the most popular hashtag on Twitter at the moment (99 means it's SUPER popular; a rating of 1 means it's almost never used).
Navigation bar-- Note that you're currently in the "Related Hashtags" tab. In this tutorial we'll also deal with the "Usage Patterns" tab.
Related hashtags-- This weird spider-looking graph is the most helpful portion of Hashtagify.me for discovering new hashtags. It shows relationships between hashtags.
Top recent media-- This is a feed that loads the most recent activity on Twitter and Instagram for your hashtag (scroll to the bottom for the most recent Instagram pics).
Step 2: Select "Table Mode" to view your hashtags in a more orderly fashion
Right down at the bottom of your "related hashtags" box, you'll see a couple of toggle options. These will change your view of the top hashtags, depending on what you want from the information. The connected bubbles view is a good visual representation, if that's how you roll.
I do not roll this way. I like tables. I like seeing all the data in a more succinct and less fun way. Also, the bubble graph is interactive and I find it very easy to get distracted by the way they wobble around.
So click the "Table Mode" toggle to change the data into a more manageable form: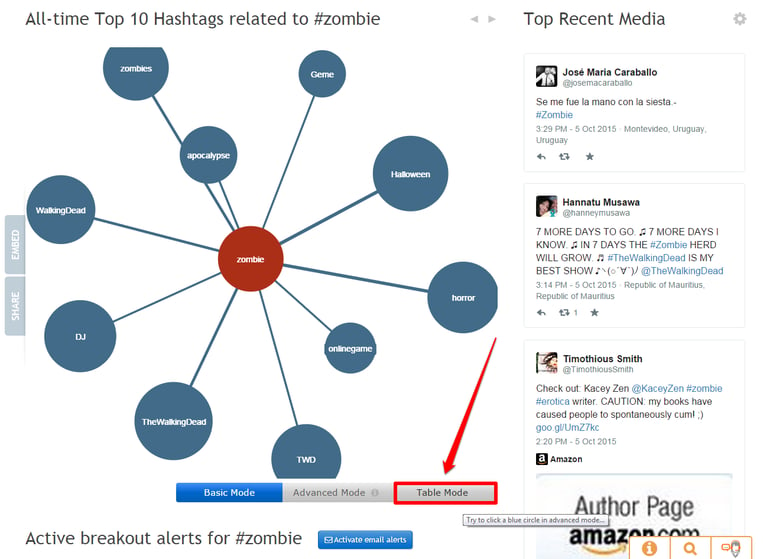 This is the pretty new way to see your data: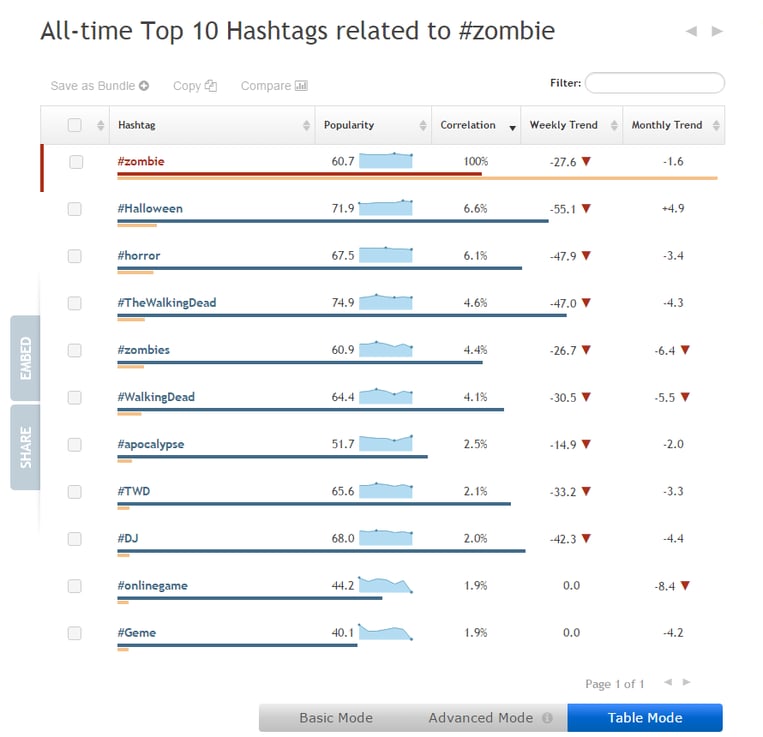 There are four different ways of looking at this data, displayed in the bar at the top, here: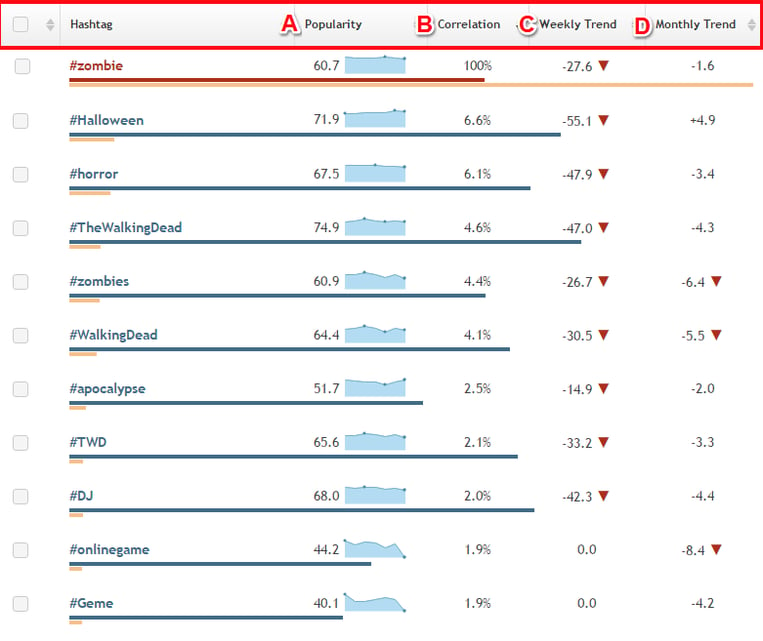 The four metrics that Hashtagify.me offers for each of these top 10 related hashtags are:
Popularity-- How much general traffic that hashtag is receiving. This is represented by the blue line below each hashtag (red for the main hashtag), the popularity rating number in the corresponding column, and the little blue graph beside the number.
Correlation-- How often that hashtag is correlated to your chosen hashtag (in this case #zombie). This is represented by the yellow bar below each hashtag and the percentage in the corresponding column.
Weekly Trend-- How popular that hashtag is this week. This is represented by the number in the corresponding column, which tracks how much that hashtag's popularity rating has risen or fallen that week. (0.0 means that there has been no change that week.)
Monthly Trend-- How popular that hashtag is this month. This functions exactly the same way as the Weekly Trend, but with a scope that extends over the month.
Step 3: Choose a filter to prioritize your hashtags
The automatic organization of this table is to filter by "Correlation", but you can change that by fiddling with the filters so that they reflect whatever priorities you might have. I, myself, like to see what's popular overall, so let's select the "Popularity" filter by clicking it once: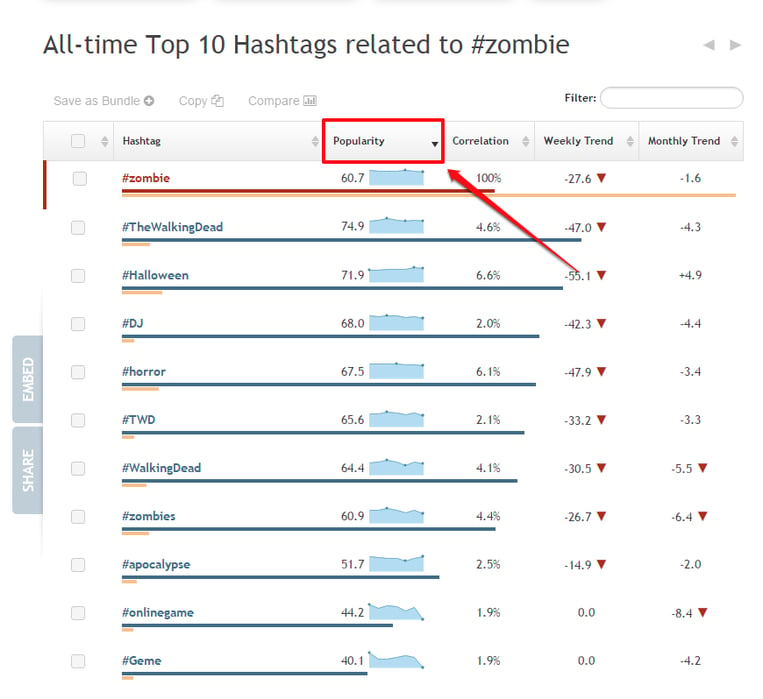 Now the hashtags that are most popular are at the top of the list.
Step 4: Compare hashtag usage
To have a look at specific hashtags and how they're used in recent months, you can select however many you like to compare them in graph form.
Click the checkboxes of the hashtags you'd like to take a closer look at: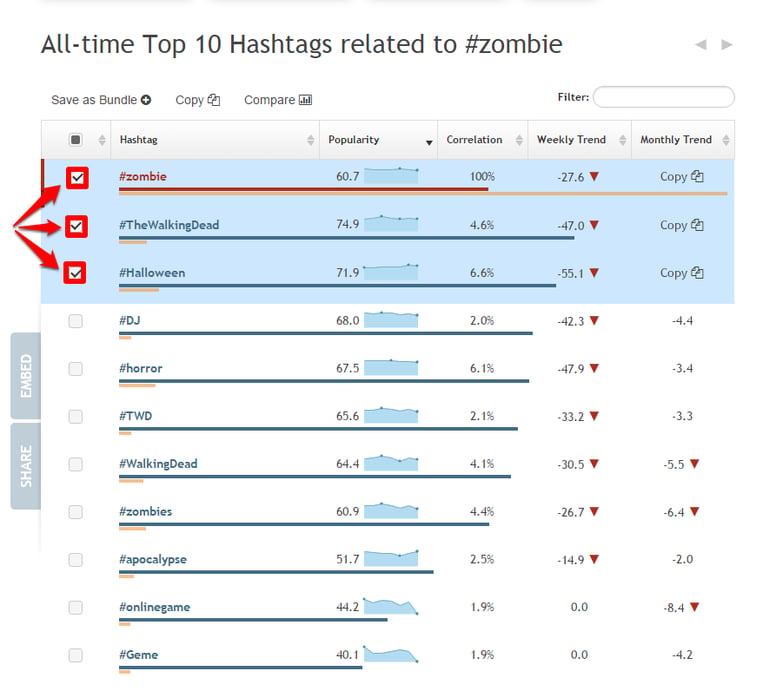 Now click "Compare" at the top: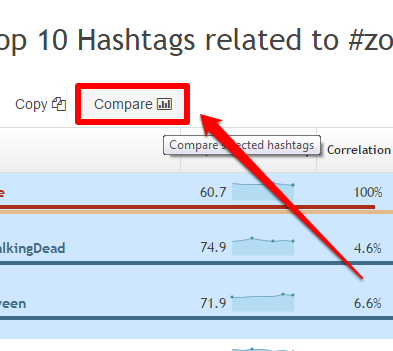 What you get on the other side should be a very pretty line graph that shows you the usage patterns of your selected hashtags over the past two months: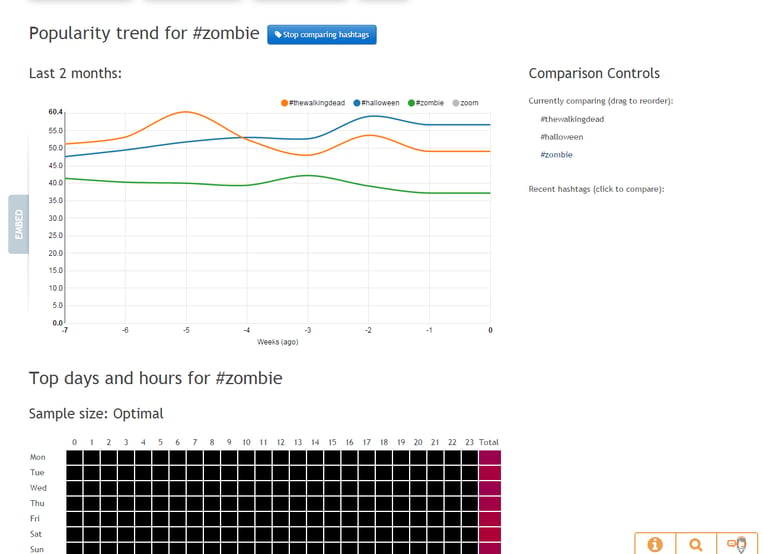 Note that you're now functioning in the "Usage Patterns" tab.
You can glean some useful info just from looking at this graph. In this case we can see a notable increase in the usage of #Halloween. This makes sense because the holiday is getting closer.
Be advised! With many of my searches, this line graph reported that the hashtags are predicted to nosedive to zero, drawing all of those lines to the bottom right corner in a somewhat alarming manner. Do not be alarmed. For some reason, this just kind of… happens. I don't know what to tell you. My best guess is that we will see #SEO in the next month, regardless of what Hashtagify.me tells me.
Step 6: Choose which hashtags to save
You can toggle particular hashtags on and off, which is helpful especially if you have a large number of hashtags on a single graph and need to focus on a few at a time:
As a bonus, if you scroll down, you'll find a couple of other nifty things that Hashtagify.me offers you: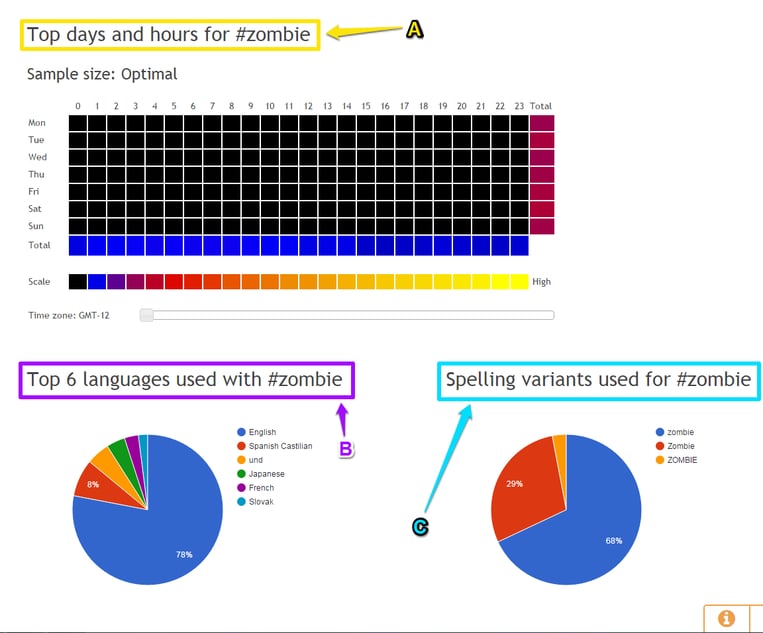 This slidable chart shows you via heatmap when your hashtag has received the most attention.
A pie chart is a great visual representation of what languages the audience for this hashtag speaks.
Spelling variations can help you figure out if you've truly chosen the most popular version of a hashtag.
These can help you determine which hashtags are relevant and popular enough to pursue. Once done, you can squirrel them away into a "bundle" that you can pull up later for quick reference.
Step 7: Create a hashtag bundle
To create a bundle out of the hashtags you're looking at in your graph, look to the top of the page: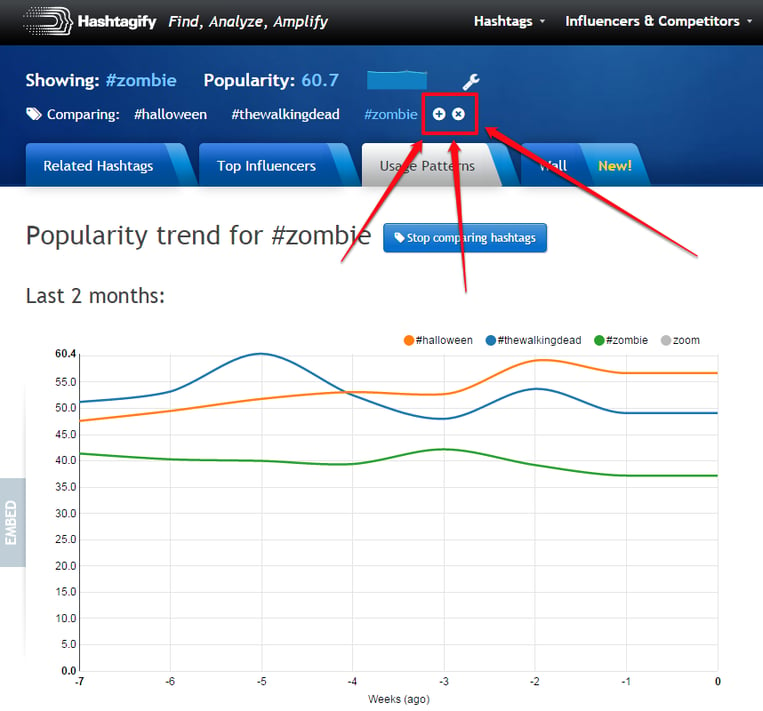 You'll need to click the "+" symbol:

This will prompt a new little window to pop up, asking you to name your new bundle. Type in whatever you'd like to name this bundle, maybe the name of the project you're working on. We'll pretend my project is named "zombie":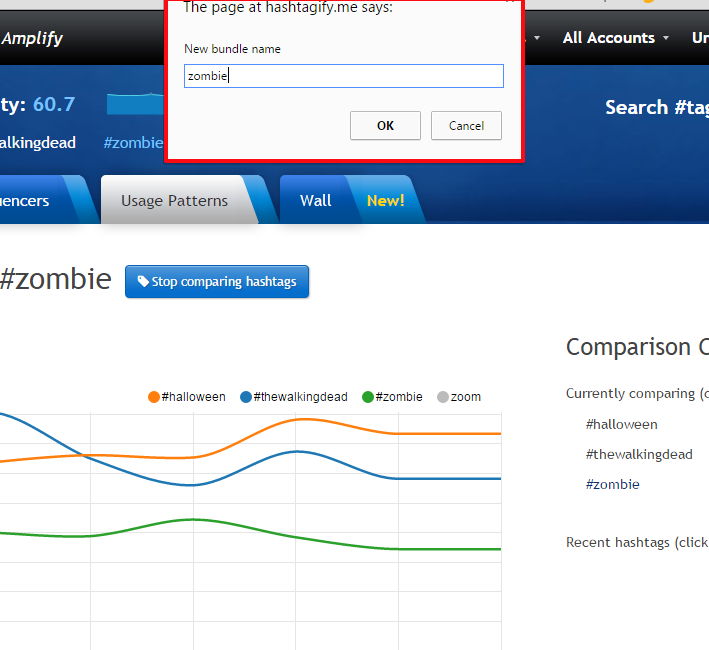 Once you click "ok", you'll be directed to a new pop-up screen: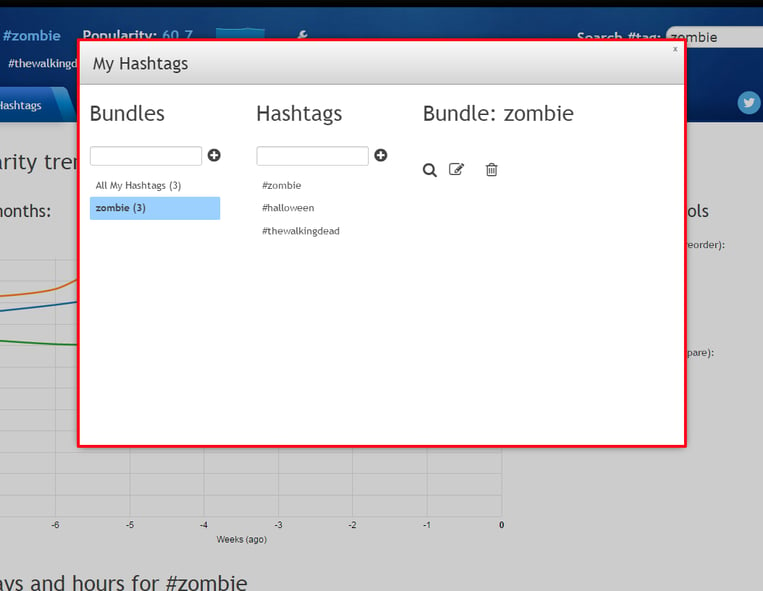 More than anything, this pop-up shows you what bundles you've got stashed and which hashtags you've been stalking. You can add or delete new bundles or hashtags from this screen. You can also add a description for each bundle or search for related hashtags.
You can repeat this process as often as you like and save new hashtags to this bundle later. Or you can make a whole new bundle to check out later.
Step 8: Monitor your hashtag bundles
To get to your hashtag stashes in the future, just click the "Hashtags" dropdown at the top of the page and select "My Hashtags":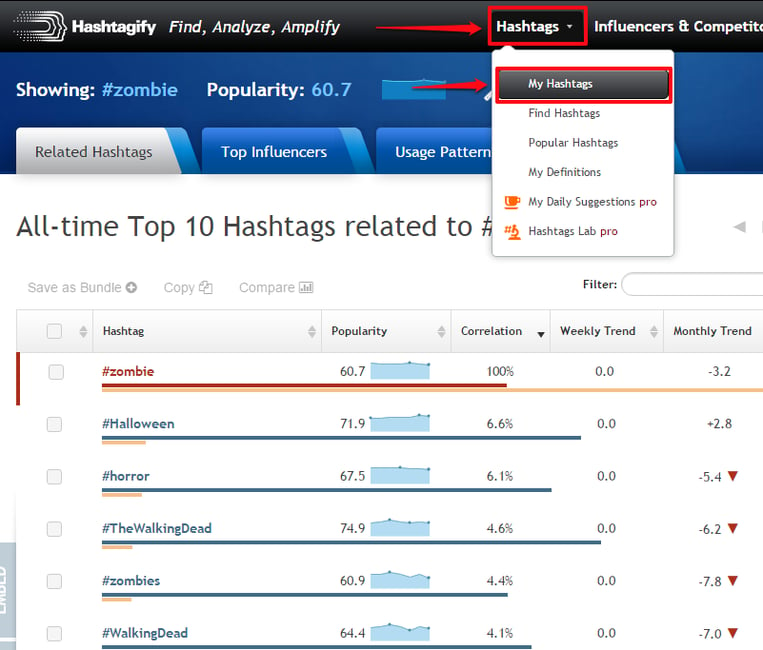 This will bring you to your hashtag home, where you can get a quick-reference for the hashtags you want to keep an eye on:
You can see where my priorities lie.
Unfortunately, the other columns only populate if you have the paid version, so keep that in mind.
But for now, this is a good way to keep your finger on the pulse of the hashtags that matter most to your project, your content, or your Halloween costume.
Conclusion
Hashtagify.me is a fantastic tool for exploring hashtags and getting a grip on what's popular in the social realm. It's good for learning what's trending and what tangential topics you can pursue. And if they ever sort out their paid tweets issue, they'll also be a powerhouse for influencer discovery.
So give Hashtagify.me a look. Its strong visual elements help translate hashtag trends into understandable information so you can promote your content to the best of your ability.
Related tools: