Welcome everybody to another edition of Linkarati's educational series Tutorial Tuesday!


My name is Colin Eggleston and I'm the Training Development Manager over at Page One Power. I've been with the company for over two years now, about half of which I spent as a link builder on the Production floor. While I do miss building great links for our clients, I absolutely love the opportunity to be directly involved in hiring and training new link builders as they join our team.
In this installment of Tutorial Tuesday I want to walk you through using BuzzStream and Moz in order to turbocharge your site prospecting prowess. It's like getting peanut butter in your chocolate, or chocolate in your peanut butter: Two good things combined in order to make one amazing thing. The goal will be to save time, and find better sites. Let's get started!
I've had the good fortune recently to begin working with the BuzzStream marketing platform. In exploring BuzzStream's features, I've been able to find some interesting site-finding tricks that have really helped improve productivity and allowed me to teach our production floor how to build even more great links for our clients in short order. BuzzStream and Moz have great synergy. Together, they can help put any client on the proverbial map.
Here's how I use them to generate powerful prospecting lists for link building and brand awareness outreach.
Step One: Backlink Search Using Open Site Explorer
Fire up a backlink search on Moz's good ol' Open Site Explorer. Since I love camping and the outdoors so much, I'll use Cabelas.com as our example "client." (A guy can dream, can't he?)
Direct your attention to the left nav bar. Moz recently did a pretty spiffy (slight) redesign of the OSE tool to make room for several new features, including my new favorite: Link Opportunities. Once your backlink search has been run, just click on the "Link Opportunities" button, as seen below.
This will pull up a new set of options for you. Then, click on the "Unlinked Mentions" button.
Moz will then populate a nifty report that shows you any mentions of your brand or URL that have NOT been linked back to your site. Right now, it can ONLY scrape the last 10 days, but Rand has stated that there are improvements in the works. Depending on the client, 10 days worth of mentions will be more than enough to sift through. Your mileage may vary.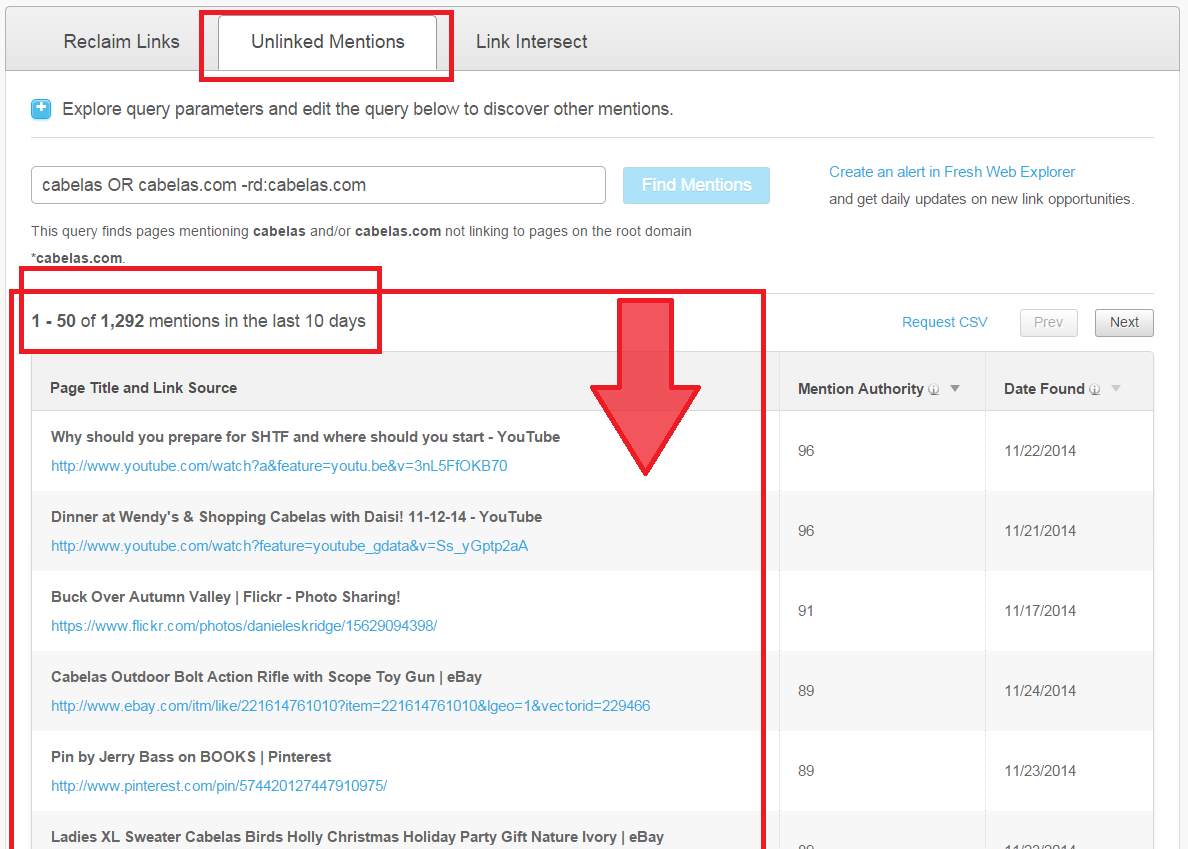 Wow! 1,292 unlinked mentions in the last 10 days! Looks like people love talking about our client, but haven't been linking back to them. Basically, we have a huge prospecting list of link opportunities that have a high chance of converting into links. The problem though is that the list is fairly mismatched and unorganized. Let's fix that!
Step Two: Import Your Unlinked Mentions Into BuzzStream
This is where we introduce BuzzStream and things really blast off.
Right click anywhere on the "Unlinked Mentions" report page, hover over the "BuzzStream BuzzMarker" option, and select the "Create Prospecting List" from the pop-out menu.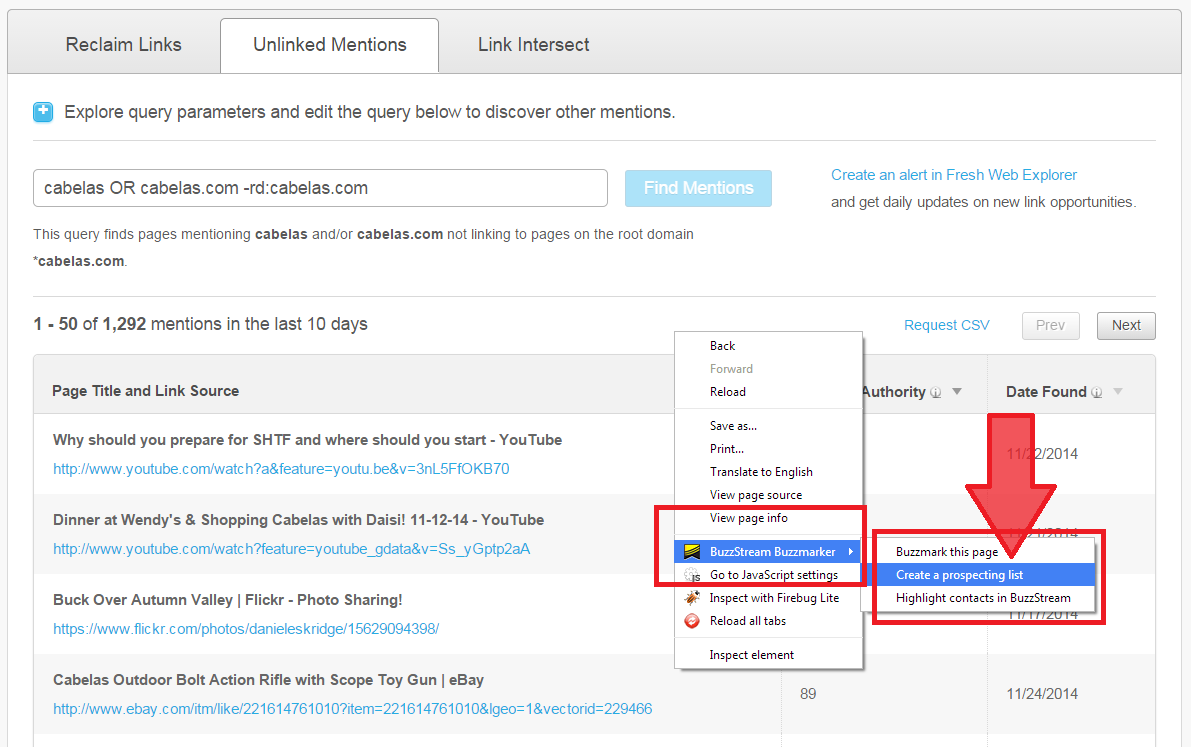 As a quick aside, make sure to have the BuzzStream "BuzzMarker" bar extension installed in Chrome, and make sure you're using Chrome in the first place. Yes, you may have to stop using your TOR browser for this one, heh.
A wild prospecting list appears!
BOOM!
With the click of a button, the BuzzStream extension has scraped every outgoing link on the current page and added them into the prospecting list on the right hand side of the page. Aside from that, it also grouped the URLs by root domain, so you can easily separate the wheat from the chaff by entire domains, rather than line by line. Huge time saver in and of itself.
Step Three: Trim the Fat From Your Prospecting List
As you can see in the screenshot below, when you hover your mouse over a group of links in the BuzzMarker bar a little trash can icon appears. You can instantly delete that group of URLs from your prospecting list by clicking on that cute little can.
Once you've trimmed the fat from your initial list, click the green "Start Prospecting" button at the bottom of the BuzzMarker window.
Step Four: Investigate Your Prospects
Clicking on the "Start Prospecting" button takes you to a cool iframe-esque navigation panel through which you can further investigate your unlinked mentions.
While prospecting, BuzzStream also automatically scrapes the site for contact info and cross checks your BuzzStream database to make sure you haven't already targeted this prospect for your client. Nice, huh? Especially if you work with multiple clients.
You can click forward or backward through the different sites in the prospecting list via the black navbar in on the bottom of the page.
If you see a site you want to outreach to for a link, simply click the green "Add" button on the right hand side of the page. (Shown above).
Pro Tip:
You can add that specific page/URL to BuzzStream for future reference by clicking on the "link" icon at the top of the BuzzMarker bar. Otherwise, BuzzStream just saves the root domain by default.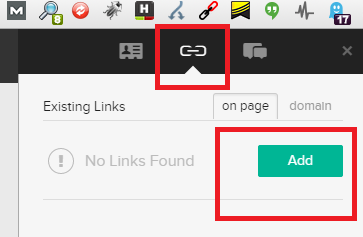 Step Five: Outreach + Profit!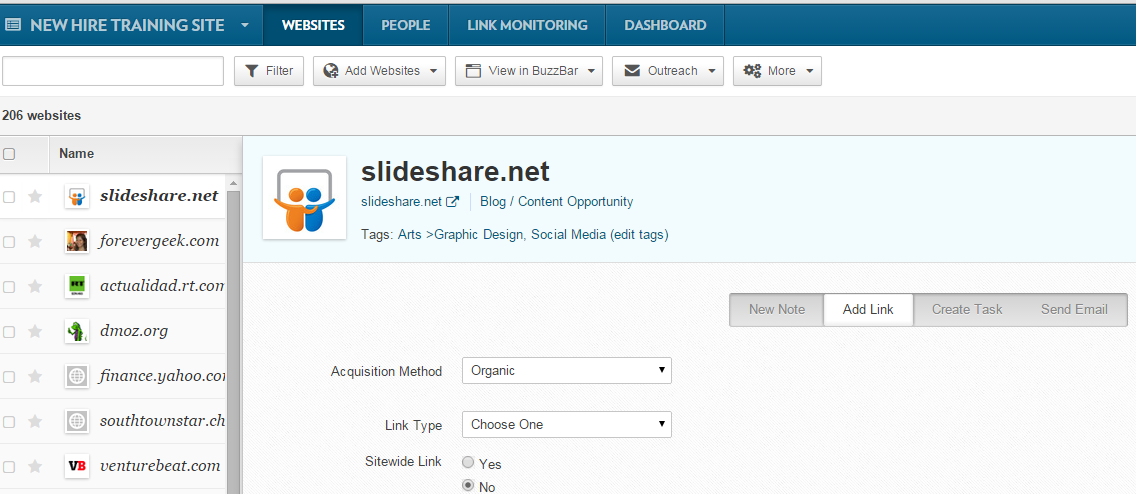 Once a site from your prospecting list has been added to BuzzStream, you can refer back to that project in BuzzStream and begin the outreach process. In this instance, we have a huge list of unlinked brand mentions that we can turn into great links for our client.
Bonus Tip
If you want to take the site finding party to Google's SERPs, simply set your search settings to display 100 results, and pop in your search operators like so:
You can then create a prospecting list from the entire SERP using the BuzzMarker right click trick. BuzzStream will scrape all 100 external links and sort them in the sidebar for your convenience. You now have no excuse not to be a site prospecting grand master!
Conclusion
Site prospecting is never easy, even at the best of times.. Whether you're building brand awareness or backlinks, it's good to have all the help you can get. By combining some great BuzzStream features with Moz's powerful mention discovery you can take the edge off of the usual prospecting tedium.
Use Moz's OSE to populate a list of unlinked mentions for your client's brand/domain.
Sort through the chaff before adding them to your BuzzStream prospecting list.
Closely examine them one by one by using the prospecting list iframe tool.
Add the winners to BuzzStream.
Outreach to winners.
Profit!