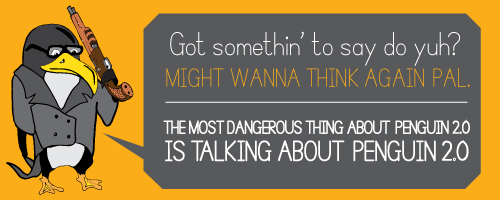 Editor''s Note: Today we have a guest post from James Lee of Vertical Leap. In this short-but-sweet piece, James gives his take on Penguin 2.0. In James' mind, user experience needs to come before links and the danger of Penguin 2.0 lies in talking about Penguin 2.0. He also tells us of his undying love for herbal tea. See James' take on the matter below!
A post talking about not talking about Penguin 2.0
When Google launched Penguin 2.0 my email inbox quickly stacked up. Not with clients panicking about sudden drops in search engine ranking; probably because the update only affected around 2% of websites. My inbox was full of newsletters, articles, updates, tips and nearly every form of propaganda us SEO'ers love informing me about Penguin 2.0.
I am just going to say it; I think we should not care about Penguin 2.0.
Here is why…
Read More