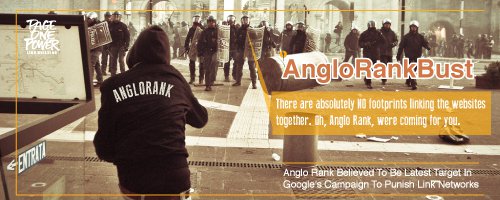 As link builders, we must always keep a close eye on how Google views the links we are acquiring. Building links that appear "unnatural" in the eyes of Google can lead to some serious consequences and potential penalties. Although it is impossible to determine exactly what Google considers unnatural, Google Webmaster Tools does provide some descriptions we can use for reference. According to the "Link Schemes" portion of Google's Webmaster Tools, some examples include:
Buying or selling links that pass PageRank. This includes exchanging money for links, or posts that contain links; exchanging goods or services for links; or sending someone a "free" product in exchange for them writing about it and including a link
Excessive link exchanges ("Link to me and I'll link to you") or partner pages exclusively for the sake of cross-linking
These two examples fit the description of a common black-hat SEO practice referred to as a "link network". Anglo Rank is the latest target in Google's relentless campaign to bring down these link networks.
"Oh, Anglo Rank"
This news came last Friday when Google's head of webspam Matt Cutts indicted Anglo Rank publicly with a rather sarcastic tweet:

The language used in the tweet comes directly from Anglo Rank's marketing materials (picture below) and is likely Cutts' way of publicly announcing it has been targeted by Google.

If Google indeed targeted Anglo Rank as a link network, the webmasters using Anglo Rank's private network for links should expect to see manual penalty notifications showing up in their Webmaster Tools soon.
As Google continues to crack down on these various link networks it has become clear that participating in them is becoming riskier; it may not be a question of if, but rather when you will receive penalties from Google. This is why it is important to be able to identify these link networks: you need to avoid becoming involved with them.
What is a Link Network
To be capable of identifying a link network, we must first understand exactly what a link network is. At its most basic, a link network is a group of websites that are all connected, either by affiliation or the fact they are owned by the same person, that manipulate this connection to pass link juice to one another. However, this is a very simple description of what a link network looks like and not all link networks are constructed in the same way.
Services like Anglo Rank that promise 500 links a month for a set price aren't trying to hide the fact that they are a link selling service, but they do hide that their links come from a link network. Webmasters would be well advised to stay away from services that sell links, link network or not. However, other link networks may not be as obvious and distinguishing sites that are part of their network can be difficult.
While most webmasters should know better than to purchase links from a network like Anglo Rank, and linking to an obvious link network may seem like a rookie link building mistake, learning to spot and avoid link networks is something every webmaster should know.
Spotting a Link Network
First, you should look for some of the more blatant signs that a site is part of a link network. If the site has a "Partners" page that contains a massive list of links to non-relevant sites it is a strong signal that the site is part of a link network. Also, it can be a good idea to look at where the site's external links are pointing. If these links all seem to be pointing to the same handful of sites, it is likely you are dealing with a link network.
As mentioned before, some link networks can be more difficult to detect and it takes a bit more work to discern them. If you are suspicious of a site, do some extra digging and see what other sites the webmaster owns (if this is a very large number, you're likely dealing with a network) or look for other sites on the link network with similar templates or layouts.
There are also a number of tools that you can use to identify a link network. Tools such as Open Site Explorer and Majestic SEO can provide you with backlink reports to determine the link neighborhood of the site and ewhois can tell you if multiple sites are using the same Google AdSense and Analytics numbers (another signal of a link network).
Here is a quick list of what to look for:
A "Partners" page that contains a large list of links to non-relevant sites
Large number of sites owned by the same person
Many sites linked together with similar design or template
Lack of diversity in external links
Sites with the same Google AdSense/Analytics number
Anglo Rank Not Alone
While Anglo Rank is the most recent link network to be targeted by Google, it is not the only one. Google has been pursuing link networks since the Penguin update, which left many site owners scrambling to remove links from link networks. Other link networks Google has exposed and subsequently penalized include Ghost Rank 2.0, SAPE Links, and BuildMyRank.com. The demise of Ghost Rank 2.0 was announced in a similar fashion to Anglo Rank, with a Matt Cutts tweet:

In fact, Anglo Rank isn't even the only link network being targeted by this most recent update. According to Barry Schwartz of Search Engine Round Table, when asked if Anglo Rank was the only link network targeted, Matt Cutts responded with "we've been rolling up a few". So it looks like we can expect to see more caustic tweets from Mr. Cutts in the near future
Meanwhile, Anglo Rank continues to deny that it has been hit by Google. Posting in forums associated with black-hat SEO, Anglo Rank maintains that hardly any of the sites in their network have been penalized. However, manual penalty messages can take some time to show up in Webmaster Tools and more sites should be receiving penalty notifications soon.
More Reason to Wear the White Hat
The news of Google busting Anglo Rank and the forthcoming punishments those involved with it will receive is further reason to avoid utilizing black-hat SEO tactics like link networks. These types of actions further strengthen the argument to pursue white-hat link building strategies that are more in line with what Google considers natural. White-hat SEO methods may take more time and effort, but they are worth it in the long run as you can avoid the risk of incurring punishments from Google.
Recap
To recap, it is important to be able to spot a link network as you can be penalized by Google for joining one, intentionally or not. Look for the signs of a link network:
A "Partners" page that contains a large list of links to non-relevant sites
Outbound links are all pointing to the same group of sites
Large number of sites owned by the same person
Many sites linked together with similar design or template
Utilize tools like Open Site Explorer and Majestic SEO to obtain backlink reports to see who is linking to who and use ewhois to compare Google AdSense and Google Analytics numbers, as the same numbers on multiple sites will indicate a link network. Avoid linking to any sites that appear to be part of a link network as Google is targeting these link schemes and it will only be a matter of time before penalties are handed down.