This week we get creative with Youtube's keyword tool, learn how to build quality links without guest posts, and scale up our link building with helpful tools.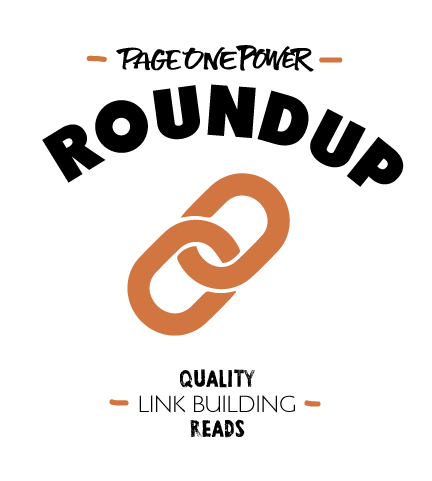 1. Google Never Settles, via Search Engine Journal
With Google constantly updating its search results, some business owners may feel that the search engine is no longer a trusted means to generate leads. But Matt Cutts argues that whether people have noticed it or not, Google is constantly changing to improve its search results and toying around with algorithms. This is just part of its effort to outwit spammers and create a better experience for its users. However, Cutts also explained that Google should never be a company's only strategy for lead generation. Leveraging social media, content marketing, blogs and mobile strategies are just a few other tactics that business owners should use when trying to acquire new customers.
2. YouTube's Keyword Tool Proves Worthwhile, via Search Engine Land
When consumers seek out certain products with search terms, sometimes they get pages of results and other times there is little to work with. Linking to YouTube videos on landing pages that come up where search results could be otherwise baron may prove to be a solid strategy to improve the online reputation of the brand. Julie Joyce praised the fact that the YouTube keyword tool allows users to get keywords and easily import them into Google AdWords for your PPC campaigns, but this is not all it can do. Businesses can also use the solution to help sell their products. Linking to YouTube videos with people using particular items has the potential to be a strong marketing strategy.
3. Keyword Research can Dramatically Improve Visibility, via Business 2 Community
Simply deciding on a few keywords to move forward with can prove to be a major error for PR pros who are trying to implement SEO tactics. Before defining a keyword, it's important to consult a keyword tool and ask it about a whole bunch of different terms. Thinking up any possible terms that consumers use to search for the company will be more beneficial in the long run. Taking part in this process will not only allow the firm to take advantage of the right keywords when writing press releases, online bylines and blog posts, but it will also ensure the company's website sees more traffic.
4. Visitor Analytics No Longer Get the Job Done, via Moz
While it's definitely a good idea to leverage visitor analytics tools like Google Analytics, Omniture, and Webtrends, they should only be part of a successful online marketing strategy. According to Rand Fishkin, log files and hit counters aren't considered powerful deployments to improve a company's presence on the Web. Instead, it is critical for marketers to be able to fill the gaps of information that isn't provided by visitor analytics tools such as how they're measuring up against the competition and business metrics that can shed some light on the success of the company. Gathering as much data as possible about the company's website and customer activity can help firms improve their Web marketing strategies in real time.
5. Content Marketing isn't Really a SEO Strategy, via Entrepreneur magazine
Many businesses believe they are improving their search rankings by incorporating content strategies into their multichannel initiatives, and in several instances, they are. However, Entrepreneur magazine warns that treating content as a pathway to improved search rankings is dangerous. It takes an extremely strong content strategy to be able to truly see better SEO results, and a lot of companies cannot deliver on that. The article discussed how there are "millions of poorly-written, keyword-stuffed articles" lingering on websites from firms all over the world. Most search engines will simply ignore poor content, and all of the work that goes into it will be for not. The key to a strong content marketing strategy is learning how to nurture leads and including links to other sites to build the company's relevance.
6. How to Get High Quality Backlinks (Without Guest Posting) via Backlinko
Tired of beating the content horse for links? Brian Dean of Backlinko shares some great techniques to build high quality links without creating yet another batch of content on the web. Dean shares some very interesting techniques that are creative and actionable. I won't give away the secret here, but suffice it to say it's worth your time to go read it.
7. Scale SEO - Tools to Get More Done via Triple SEO
Chris Dyson shares some of his secrets for link building efficiency - by automating the repetitive tasks. This isn't your every day link building tools post. Dyson shares not just the tools he uses, but also the processes of implementation and the reasoning behind it all. If you're interested in streamlined link building, this is a post for you.