Editor's Note: Two guest posts in a row– that's a first for us. Today, Cheryl Ellemberg of ABD Promotions schools us on how to use LinkedIn Groups to our advantage. This is good stuff– short, sweet and actionable. It's easy to be lazy about LinkedIn and ignore the whole thing, but Cheryl shows us that it's just as easy to be UNlazy. Mind=blown. Take it away, Cheryl!
When dealing with Business to Business marketing, on eof the best ways to get the attention of professionals in your target audience is to focus on LinkedIn groups. These groups allow you to focus your marketing energy in business sectors that can benefit from your services. It also is a direct method of reaching out to professionals that are interested in your area of expertise and ready and willing to take advantage of networking opportunities. Below are 10 easy steps to promoting your business using LinkedIn.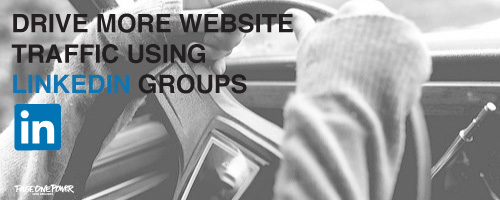 1) Set up a LinkedIn Account
The average LinkedIn professional has an average annual household income of $83,000 and has twice the buying power of the average US consumer. This is a group of intelligent, focused business professional who are ready and willing to network.
2) Chose your groups wisely
LinkedIn has over 1.4 million groups but only allows users to select a maximum of 50. It is important to keep those choices relevant to which groups you can contribute to and also serve you best. Make sure that you have some level of expertise related to the groups you select.
3) Share content
Share your blogs with your groups. Choose topics that are relevant to your group's audience. If you are trying to promote a new blog article on Marketing to Small Businesses, choosing the group Sales Best Practices is a great idea. On the flip side, promoting that same article in the Banking Careers group may not be the best fit. Be thoughtful about the content you share.
4) Structure the content so it best represents you, your company and the knowledge you wish to share
Content marketing is about sharing information and knowledge that is useful. Everyone is already bombarded with propaganda. You want to be someone who shares information that is useful to your target audience. Do you want to share a skill, a technique, a general product or service?
5) Read other useful blogs
To get context for how the best blogs are promoted, read other blogs to see what is relevant to you. Check out some of the top blogs to see what blogs generate interest and participation.
6) Link your blog to your website
Do you have social media buttons at the bottom of your blog to encourage readers to share? Do you have contact information in your author section so the reader can contact you directly? Do you have your website information linked to your blog?
7) Build your audience consistently
Most people want what you want – to have a thriving business, to get more website traffic, to sell your products and services. Are you a good customer? Are you a useful problem solver and critical thinker? If you help people solve their problems, they are more likely to gain your trust and build a real business relationship with you.
8) Use multiple mechanisms to promote your blog
The ultimate goal is to share content that drives traffic to your website. Therefore, your Facebook business pages, your Twitter account, your Instagram and your LinkedIn account should all share your blog information: which is housed on your website. Streamlining your website traffic is an important aspect of building your online presence and your online reputation.
9) Reverse engineer a blog post
Study popular LinkedIn groups and find a subject that fits multiple groups. With that topic in mind, write a blog post that covers many of the topics discussed in the groups. Provide insight to problems and solutions that affect the people in your targeted groups. Once complete, publicize these posts within the target groups. A little premeditated research will ensure that the subject is a perfect fit for your LinkedIn audience.
10) Thank people for sharing
When people retweet or favorite your tweets, it doesn't take much effort to thank them. On LinkedIn, people will like your blog post or share it. Recognize them for doing so. Facebook fan pages help to showcase your blogs and relevant content. Most importantly, on LinkedIn, your groups can be like your marketing team in helping share and discuss the topics you blog about.