This week we take a look at link building for ecommerce sites, see an astounding boost in organic traffic, talk about an amazing keyword research resource and think about SEO for musicians.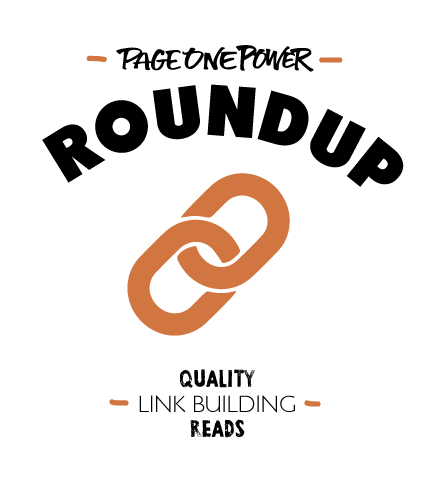 1. White Hat SEO Case Study: 348% More Organic Traffic in 7 Days via Backlinko
"Despite what you may have heard, there's A LOT more to white hat SEO than "posting great content." So begins Brian Dean's excellent piece on an extreme traffic boost. He links to a previous piece with a real account (complete with real numbers) of how he previously doubled his traffic in two weeks, but this one goes even further. Brian tackles the concept of 'content gap'-- how to find the gap, fill it with content and then get that content noticed. It's actionable and easy to follow, which is just about all you can ask for.
2. The SEO Nick Guide on How to Do Keyword Research For SEO via SEO Nick
This is the first time we've posted an eBook or white paper in one of these roundups, but this one merits a mention. Nick Eubanks put together basically everything he's learned about keyword research, and it's already met with some serious critical acclaim. You can check out the table of contents, Nick's explanation of the content and what the industry is saying in this blog post, which links to the guide itself.
3. Inbound Marketing and SEO for Bands and Musicians via Moz
P1P employs a lot of creative people, so it's natural that some of them are musicians. If you're not a musician yourself, you probably have an industry friend or agency coworker that plays in a band. I'm a musician myself, so this one jumped right out at me (I'm just greenw tih jealous rage because I didn't write it first). Brandon Seymour wrote an excellent resource for musicians-- it details how to jumpstart your SEO, press kit, website and all of your other marketing ventures. There are good takeaways here even if you're not a musician too, of course.
4. An Infographic on Attribution via DPFOC
This is another first. I don't think we've ever included an infographic in one of these roundups, either. This infrographic details the process of attributing where each of your conversions are coming from and teaches you how to set up an attribution process if you're not already doing so. It's pretty dense for an infographic, but it's a thought-provoking read for anyone in the online marketing sector.
5. Google's Matt Cutts: Nofollow Links Won't Hurt You Unless You Are Spamming At A Huge Scale via Search Engine Land
Today, Matt Cutts released a webmaster help video. That's nothing special in and of itself. This video, however, is slightly different because Matt actually gives a pretty straightforward answer. Link builders wonder about the value of nofollow links all the time, so this is a pretty handy little video. Barry Schwartz also provides a helpful recap/explanation if you don't have the less than 2 minutes it takes to watch the video (which sometimes happens).
6. Overlooked Link Building Opportunities for Ecommerce Category & Product Pages via Point Blank SEO
We recently had a post about link building for ecommerce sites, and so has Jon Cooper. Just as the title proclaims, Jon offers up some great oft-overlooked ideas for ecommerce link building. He talks about complimentary retailers, mention monitoring and deep link opportunities in great detail. In the last week alone the world has become a more beautiful place for ecommerce link builders.