Editor's Note: Today's post comes to us from Ryan Howard of Complete Web Resources, a small business SEO firm based in Austin, TX. Google+ is becoming increasingly useful for marketers and online publishers, and Ryan offers some excellent tips on how to make the most of your G+ ventures. Take it away, Ryan!
With nearly half a billion registered users, Google+ has materialized into a major player in the social media game. Businesses of every size can take advantage of this emerging outlet to increase their brand awareness while promoting their products and services. By effectively utilizing the power of Google Plus, you can maximize your return and get the most out of time spent on social.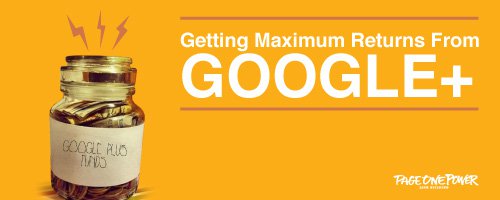 Optimize Your Profile
Google+ profiles are indexed by Google, pass link flow, and show up in searches and search engine results. Properly optimizing Google Plus profiles and pages offer that little bit of additional juice to move a site above the competition. Similar to LinkedIn, some parts of your Google+ profile, such as the introduction, employment, education, and places fields, filter into the search results. Make sure to include keywords in your profile that are relevant to your industry.
Tip: It's also important to note that Google's search queries favor those who are verified, so verify your profile.
Do Follow Your Profile Links
Not only does Google+ provide you with the ability to link to your other profiles across the Internet, but it also allows you to embed Do Follow links right in your bio with any anchor text you choose. Don't stuff keywords. One or two links is natural, but generally speaking, nine links is stuffing.
When guest blogging, increase your visibility and attract more people to communicate with you by linking to your profile. As you build connections and share posts, your profile will build power and value.
Tip: Link to Your About Page. Your "About" page contains do-follow links that link directly to your website. Direct that link flow effectively, and link to your About page when linking to your profile.
Embed Post Links and Share Publicly
Similar to profile links, you are also able to insert followed links inside of your posts. The more your posts are linked to, shared, and +1'ed, the more value these links will have. The value of these links will really take off if they are re-shared by authoritative profiles or go viral.
Include text with the links that you post, so that the post becomes a citation. Whatever text you chose becomes the title of the listing in Google search results once it's indexed. Also, let Google know explicitly that you want the post to be indexed and share your posts publicly.
An added benefit of sharing links on Google+ is the speed at which that shared content is indexed. We've seen content indexed in a matter of minutes.
Get into More Circles
Circles are the Google+ equivalent to Facebook friends and groups. In order to get anyone to see and interact with you on Google Plus, you need to be in as many circles as possible. By doing so, you will be able to increase your brand awareness, both with visitors and Google itself. There are three easy ways of finding circles to join:
1. Search Google+: The most obvious way of finding and joining circles is by searching Google+ for as many relevant circles as possible.
2. Notifying Google of Shared Circles: Google has a shared circles page that allows you to find and join circles. Also, by sharing circles you are in or have created, you will be able to increase the number of circle participants.
3. Adding a circle to the Google+ Shared Circle google doc: You can also search the publicly shared Google document to find circles to join. Someone (we don't know who) created this simple one page document that shows hundreds of circles, and you can add your shared circle there for others to see and join as well.
Simply by following more circles, preferably those that are in your niche, you will get a ton of people to add you back to their circles as well.
Add Google Authorship to Your Site
You've done all this work on your profile, so it's time to solidify the marriage between Google Plus and your website. Adding Google+ authorship has a number of different avenues, but basically requires linking back to your profile from every page with "rel=author" in the link. In WordPress, you can simply set your profile in the User settings admin panel. There are some other verifications required, and for a full guide, look here: https://plus.google.com/authorship
Authorship can take a few days to show up in SERPS. To check to make sure you've done everything correctly, use the Google Structured Data Testing Tool.
Add the Google +1 Button on Your Site
Google's +1 button is similar to Facebook's "Like" button. According to Google, the +1 button basically stands for "you should check this out" or "this is pretty cool." When you embed this button on your website, it allows visitors to click the button and share your web page with their Google Plus Circles. It also signals Google like any other social queue (but better, because Google give +1s more weight), leading to increased search engine rankings.
The Best Social Network?
Google+ is Google's social network, and Google Search prefers signals from Google Plus over any other. To take advantage of Google Plus, do these three things well: Grow your circles, optimize your profile, and share quality content.