This post is inspired by numerous conversations I've had with clients, as are many of the posts I write.
This conversation typically kicks off at the start of a new link building campaign, when I'm explaining quick (yet quality) wins in link building. One of those quick wins is local link building - local links are great, typically based on prior relationships, and rely upon inherent - as opposed to established - authority (being a local business).
Plainly said, local links are easy to acquire because:
They only require you to be based in your locality (which you already are)
You can leverage past relationships that most businesses form naturally.
So, you should already have everything you need to build quality local links today.
If you're only interested in how to build local links, follow through to the link above, which is a guide I wrote for Search Engine Watch back in June.
The point of this post is to discuss relevance in local link building - which is where the conversation with clients routinely goes after bringing up the possibility of building local links.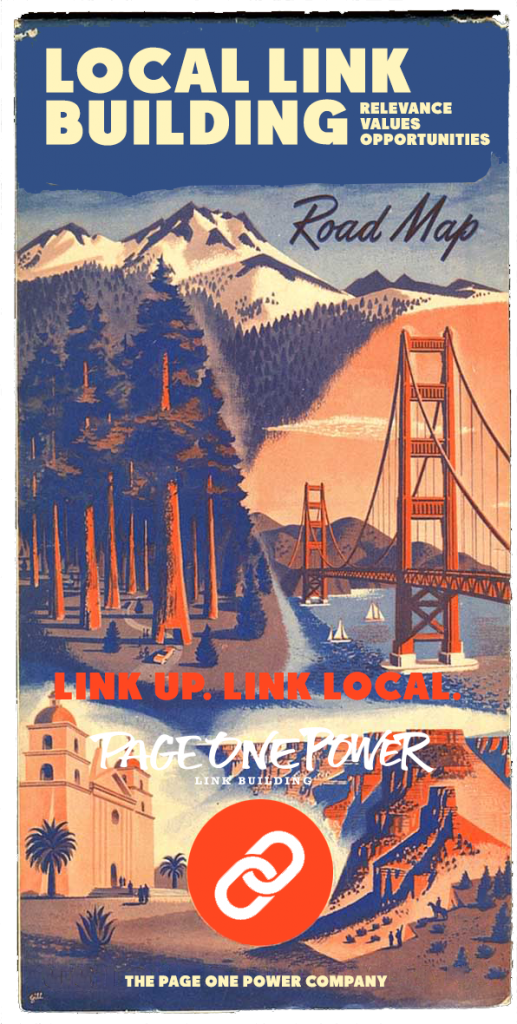 Relevancy First
I'm a big believer in relevancy first link building - I started an entire firm (Page One Power) around the concept. The idea is that our guiding principle in link building is relevance.
Of course we examine other factors as well - but if the relevance isn't there, neither are we.
We build great links that make sense. That's why relevancy is so important in link building: it helps create sensical, natural links that Google values.
Because I espouse relevancy first, it's important to define relevancy when building links locally. What is and isn't relevant? Is relevancy redefined when thinking locally versus nationally (or globally)? Absolutely.
What Is And Is Not Relevant
Relevancy is twofold when you're pursuing local link building.
First, you have what's relevant to your company, industry, niche, vertical, and product - much the same as when you're pursuing traditional link building. To use Page One Power as an example, that takes the shape of link building, SEO, Search Engine Marketing, and eventually, internet marketing - going from narrow to broad relevance.
When utilizing local link building, you mix in your locality to the relevance - including city, county, and state. So, much the same as link building is completely relevant to my company, our city (Boise) is completely relevant in local link building.
Relevance in local link building relies more on locality as opposed to industry relevance, which is your sole concern in traditional link building. And, because relevance is so important, there can be some concerns about building links that don't have any industry relevance.
But again, in local link building it's the relevance of the location that is important - industry relevance is truly secondary; nice if it's there, but certainly not required.
Traditional Link Building Values Still Apply
Although relevance takes a new twist when building local links, link building values remain the same. You should still be answering the same questions:
Does the link make sense?
Does the site provide value?
Would I proudly show the link to the client (friend/family/colleague/etc.)?
Those three basic questions should prove a litmus test for sites worth pursuing; if you answer no to a single one the link shouldn't be worth pursuing.
Link building values also apply to the link itself. You should still be using best practices to ensure they're great links that make sense. Factors to keep in mind:
Anchor text diversity with an emphasis on branding
Link placement and location
Page content and relevance
Other links on the page
Make sure you're acquiring intelligent links. The goal is natural, organic links that make sense. This is why local link building is so powerful - these are links that are very human in nature, and should be a consideration in any link building campaign.
Pursuing Local Link Building Opportunities
Opportunity is typically plentiful in local link building. The goal with any local links is to build your own authority, by targeting authority sites within your locality.
Big wins that should be scoured through first:
City government pages, including

Official city website
Libraries
Chambers of commerce
City council sites

Local charities and nonprofits
Local clubs, organizations, and groups
There are often relevant pages on all of these sites devoted to local businesses, sponsors of events, local resources, etc. etc.
This is especially important if your business at all profits from local customers. Want a great way to ensure Google pulls up your site for local searches? What better way to clue Google into your local authority than to have your local government linking to you?
Next you should leverage past relationships. Adam Melson of SEER wrote a great article covering 35 local link building opportunities that focuses heavily of leveraging local relationships. It's worth your time to read, but to summarize:
Create a needed resource for your community
Provide online reviews for any businesses you genuinely like/use
Participate in - or better yet, sponsor - local events
Participate in or sponsor local fundraisers/charities
Give back to your local community
Get noticed by local media
Find a way to add a bit of value to your community, and then work to get the link.
Recap
Local link building should be included in any fresh link building campaign, when applicable.
Local link building represents potential quick wins because it's based on your location and past relationships.
Relevance in local link building is centered around your location - city, county, region, state from narrow to broad.
Traditional values still apply in local link building.
As always be creative when looking for local link building opportunities, but don't forget to look to authoritative local sites as well.