"How many links does it take to get to the top of the SERPs?"
Online publishers are always asking that particular question, but who knows the answer—Mr. Cow? Mr. Fox? Mr. Turtle? Mr. Owl?
How many high quality links does it take to catapult your site to the top of the SERPs for your target keyword? Is it 1000? 100? 10? Let's take a walk around the internet barnyard and ask some of the experts. How many links does it take to rank?
Mister Turtle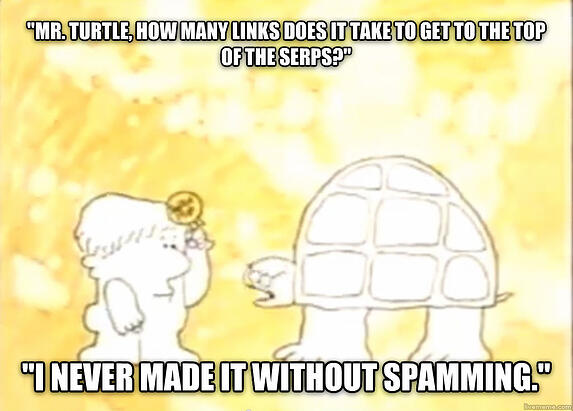 "Mister Turtle, how many links does it take to get to the top of the SERPs?" you ask.
"I never made it without spamming. Ask Mr. Owl," the wizened old turtle replies.
Mr. Turtle is a spammer. He once had some success, and he brought in links by the thousands… but he never made it without spamming. If you take a look at his backlink portfolio in Majestic SEO, you'll see that it's full of thousands upon thousands of links from thousands of domains, but most of them are totally irrelevant.
He once made it to the top of the SERPs, but he never made it without spamming.
Let's move on to Mister Owl.
Mister Owl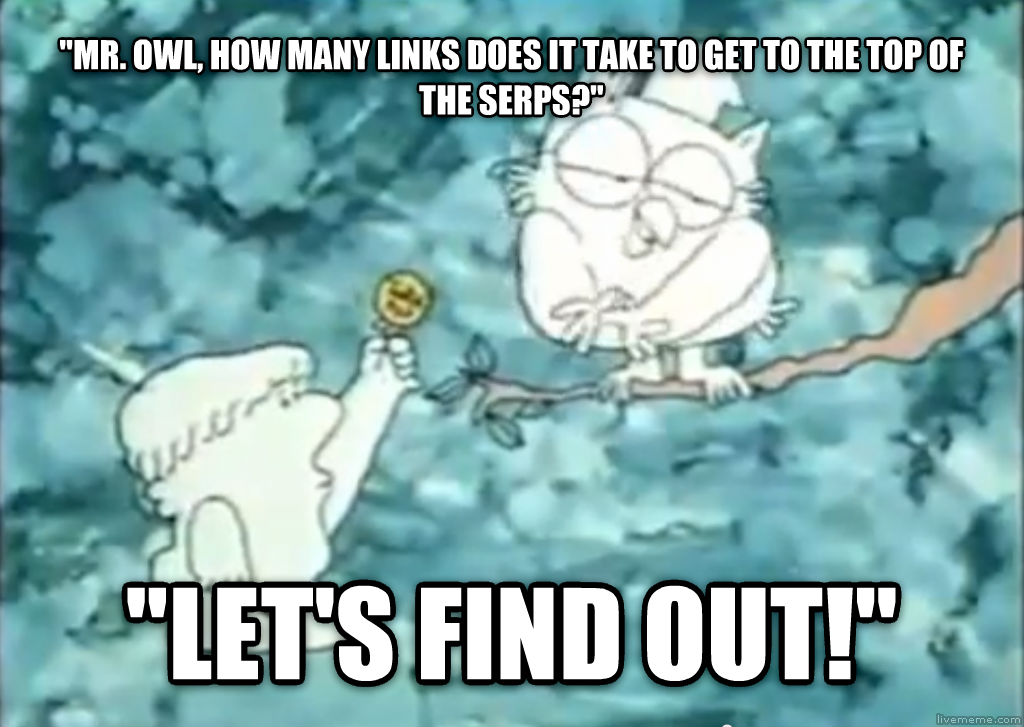 "Mister Owl, how many links does it take to get to the top of the SERPs?" you ask.
"Let's find out!" the brilliant old owl exclaims, "A-one, a-two, a-threee!" he proclaims, before giving up.
Mr. Owl might seem wise, and he might actually be the wisest animal in the internet barnyard—but he's still just an animal. He has no idea how many links it takes to get to the top of the SERPs, and he has no intention of giving you a straight answer. He uses flash and bravado to misdirect you and take your attention from the matter at hand.
Sure, he'll give you advice and answer questions-- he just won't answer the question you asked. If there's anything I can't stand, it's a smart owl!
Let's move on and go straight to the source: Mister Google.
Mister Google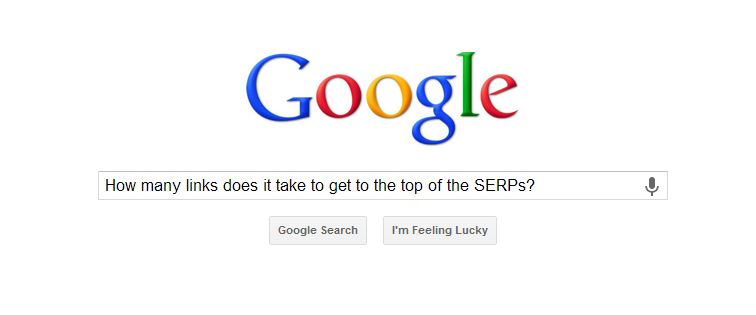 "Mister Google, how many links does it take to get to the top of the SERPS?" you ask.
"The world may never know," the search giant replies.
Well, fortunately for you—the company I work for, Page One Power, is relatively sure of how many it takes, and Mr. Google helped us come to that conclusion.
A few months ago, we put in 160 hours of original research on just such a project.
(I don't mean to make it sound like I personally did any of the research—I'm far too lazy and useless for that. Instead, some of my brilliant coworkers carried it out and I'm using the results to make myself look smart.)
How Many Links?
Basically, we decided to research the keyword 'HR Software' because it's a profitable term that we have no stake in. There are somewhere near 1600 local searches a month for HR Software. We figured the cost per click is around $26.71 per click. That's pretty decent.
It's also a good search term because the three top ranking sites have 'HR' in their domain name, so the players are at an even level in regards to domain name. Each site also had just about the same amount of content, and we're only looking at each site's homepage.
When we completed the research back in March, Tribe HR was number one, Bamboo HR was number two and Effortless HR was number three.
We took their backlink profiles from Majestic SEO and Open Site Explorer. Then we eliminated duplicate links, spam links, 404s, unintelligible URLs (that kind that make no sense for humans), links from duplicate content, broken links, links from porn sites and anything that just looked weird.
We also took out the no-follows, since we're not exactly sure if they pass on authority or not.
We believe that Google doesn't count these links or they'd be discredited some time down the line.
We stuck with links from (mostly) relevant, human-curated sites.
That took a long time since we did it all manually, but the results were worth it.
Effortless HR had about 331,000 links. That's no small amount, but we ended up throwing away all but 181 of those links. Those 181 links came from 107 different domains.
Bamboo HR had 17,364 links before we applied our filter. After we pruned the list, Bamboo HR had 139 links from 107 domains.
Tribe HR had 38,452 total links. We counted 447 links from a 115 domains after we purged out the crap. They have about 4 times as many real links as their competitors, but each domain that links to them links to them an average of 4 times as well.
It's really that simple. Each of those sites had an enormous amount of links that we didn't count—mostly because Google wouldn't count them either. We eliminated thousands of links.
We'll call the links we were left with the "real links," and you can see the comparison in the graphs below: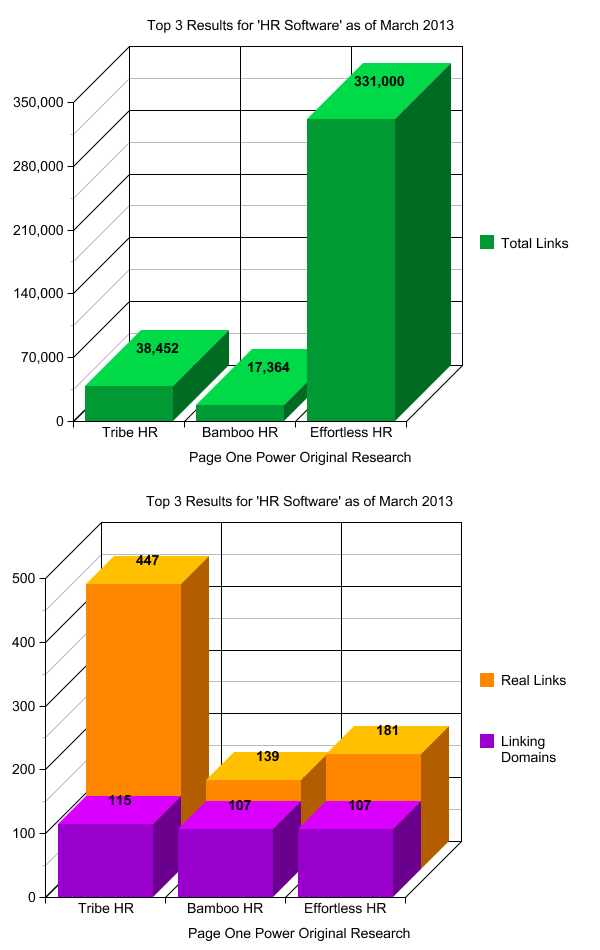 What Does it Mean?
Many online publishers think it takes thousands of links to rank for their keywords in the SERPs, but this research indicates that probably isn't the case. Each of these sites ranked in the top 3 results for a lucrative keyword, and none of them had more than 500 real links.
In fact, the 2nd and 3rd place sites didn't even break 200 links. Effortless even had more real links than Bamboo, and they came from the same number of domains, but Bamboo won out. It's not a sheer numbers game.
Even if you look at the total number of links for each site, the numbers support our theory—Effortless HR towered over the other two in total links, but it still doesn't rank as well as they do.
The plot thickened when Bamboo HR and Tribe HR switched place in the SERPs a month later. As of this writing, Tribe is in the lead again, Bamboo is the 3rd site that actually sells software and Effortless is at the bottom of page 1.
Effortless has a ton of links, but they've moved a bit lower. They're still in a pretty good spot, but it's possible that some of those thousands of links are now being discounted. It's also possible that Tribe and Bamboo are currently acquiring better links. Rankings can be fickle.
I don't know if these three companies have continued to build links or if they've stopped entirely, and I also don't know what the new contenders' link profiles are like—that might require another 160 hours of research.
This snapshot of a time in March does show us a pretty vivid backlink picture, regardless of what the results look like right now.
It doesn't take thousands of quality links to get to the top of the SERPs. You can throw Mr. Turtle's spam and Mr. Owl's misdirection out the window.
Page One Power has ranked sites with 12-20 relevant, high quality links in some pretty tough niches. If you run an agency or work as a freelancer that builds links manually, I'm sure you've seen some similar results. It definitely doesn't take 331,000 links, most of which are either useless or spam, to rank.
It really is a quality game, not a numbers game-- my grape, orange and apple flavored graphs are here to back me up. It's also a matter of keeping at it, since those rankings will squirm around if you let them.
As long as each link makes perfect sense and comes from a human-curated site with a real audience, you don't need that many links to get to the top of the SERPs.
Just like getting to the Tootsie Roll center of a Tootsie Pop, real link building takes time. Those high quality links take more time to build than Mr. Turtle's thousands of spam links, but they're worth it.
Savor the process because there are no shortcuts—but it doesn't take thousands of links to get to the top of the SERPs.
http://youtu.be/0UYvsk6_foc