Editor's Note: I'm taking over for Zach this week on the Roundup, simply because I somehow ended up reading so much last week that it'd be criminal for me to not share it with you.
This week we take a look at automation, an awesome newsjacking victory, Google Authorship and AdWords. Enjoy!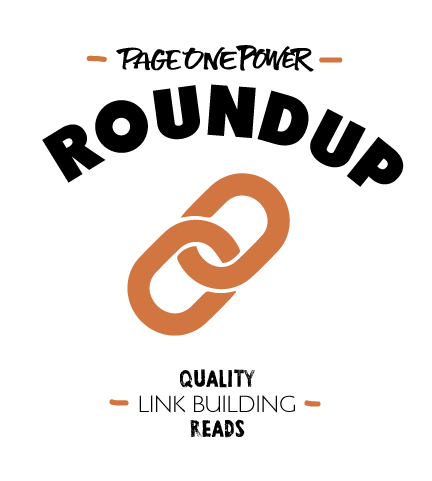 1. Confessions of a Newsjacker at BarrieMoran.com
This is an incredible article and an incredible piece of work. Essentially, the dream team of Barrie Moran, Lyndon Antcliff and Chris Dyson created an incredible PR win for a Scottish music shop. Geoffrey Bloom, a member of the UK Independence party, said something thoughtless and racist which included the words "bongo bongo land." Barrie, Lyndon and Chris teamed up to newsjack that story and land some major links and publicity for Rainbow Music in Dundee. These guys are brilliant and they created a tasteful and creative marketing victory from a tasteless act. Read this story immediately.
2. Automate Absolutely Everything – If Zapier Then IFTTT at HitReach
We don't talk about automation a lot here at P1P, but I really liked this post from Patrick Hathaway over at HitReach. It's no secret that Patrick's a smart dude, but this is pretty crazy—time-saving, actionable advice that involves automated tools. Patrick basically explains how Zapier and IFTTT can interact with one another to save time in the realm of administrative tasks. This is what automation should do.
3. The 6 most Actionable SEO Blogs for Link Building and Traffic Generation at BusinessMapper
This is an example of a good list post. Simon Trainer of BusinessMapper put together a pretty great list of SEO blogs that are, as the title indicates, full of actionable information. We're all about actual resources here at P1P, so let us say that clicking through and checking out these 6 blogs (and why Simon chose them) is a delightfully educational experience.
4. Google Panda, Penguin & Phantom: 3 Recovery Examples via Search Engine Watch
Getting over the flu is tough. The virus can stick with you for a while, and the only thing you can essentially do is wait for your body to fight it off. Meanwhile, the computer algorithms that Google has introduced to the SEO community have similarly impacted a number of websites. Glenn Gabe explains how he has seen a fair few sites recover from the effects of the updates to Panda, Penguin and Phantom - a significantly less cute member of the triumvirate. Gabe provides another trio, a list of three case studies by which he explores how businesses handled how the algorithms interacted to impact overall SEO. Case two is especially pertinent to link building strategy and worth an extended look.
5. Google Launches Manual Spam Actions Viewer, Streamlines Reconsideration Process via Search Engine Land
Is it Christmas/Chanukah/Kwanzaa/Ramadan (actually, it was!) in August? Matt McGee explains how the new Manual Actions viewer functions as a Webmaster Tool. It's a commonly held belief that Internet users don't particularly enjoy spam, and this feature helps companies work with their webmasters to identify spammy content that may be lurking around. It's likely to help companies understand why their sites are being punished by Google and will help them address any problems identified. While this gift may not be wrapped neatly with a bow, it should be a utility that benefits SEOs.
6. The Social Media Landing Page - The Underutilized Page You'll Kick Yourself For Not Having via SocialMouths
Some might argue that there's no difference between and entryway and a foyer, but Tommy Walker might bring up a point of contention there. When it comes to social media platforms, the landing page - aka the bio page link - needs to be more foyer (pronounced: foy-yay, of course) than entryway. That means classing things up a bit or, in Walker's words, "rolling out the red carpet" for visitors. How do you generate excitement? Well, integrating interesting content that doesn't overwhelm visitors but tantalizes them in some way is one place to begin. Going further, the article gives advice on how to make your site more sharable, how to optimize email tools and keep in touch.
7. Can Google Authorship Really Cause a Huge Traffic Drop? via Search Engine Watch
We have another case study because they're so compelling, especially when it's answering the question of whether Google Plus authorship is beneficial for an organization. If you don't remember, Alex Yumashev claimed that authorship caused his traffic rate decrease by 90 percent, resulting in an authoritative reply by Google's Matt Cutts assuring us the drop came as a response to Penguin's Web spam algorithm. Chuck Price put the question to the test and details the case study through a series of correspondence that really gives insight into how SEO works.
8. Can Users Really Tell AdWords Ads from Organic Results? via State of Search
Barry Adams questions whether we can tell the difference between ads and organic search results. It's hard to fault him considering the amount of real estate that AdWords ads take up on search engine results pages. But is it so difficult to tell the difference? According to 123-Reg research that Adams references, 66 percent of the more mature (used lightly) folks, or those between the ages of 18-24, responded they didn't see any ads on SERP. Yikes. The results for the even younger crowd are more startling. This information raises some important questions about where organic search results are headed.