Editor's Note: Today's post is from Keredy Andrews of Punch Communications. In this piece, Keredy talks about what a natural backlink portfolio is and isn't-- and that's an important thing to remember. As SEOs and link builders, we often get too focused on scooping up great links with grand slam anchor text, but need to work from a broader perspective if we want to keep it natural. A natural backlink portfolio is a must for your site, the search engines and the user. Take it away, Keredy!
As search engines continue to become ever more sophisticated to ensure the most relevant results are returned to users, SEO professionals have to take on the challenge to try and get their brands' websites visible in ranking pages. Google releases a new algorithm, we react; it subtly alters its webmaster guidelines, we react. Whilst at the current time, a focus in the search world is quality on-site content, a site's backlink profile remains a key indication for search engines, as it is through links that they discover pages across the web.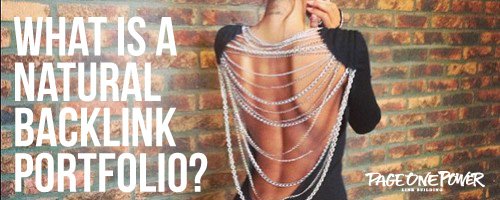 Crawling bots, or spiders, read the anchor text links, take the words and the context into consideration, as well as the source, destination and the connection between. Links can be looked at in terms of a page's recommendations and descriptors, so it's no wonder that search teams execute link building strategies with an emphasis on keywords; it makes sense to obtain as many of these references as possible from the most relevant and authoritative websites for the search terms a brand wants the page to be visible for… right?
Right and wrong. Back to that sophistication I mentioned; search engines know much more than we can imagine. If a site's backlinks, also known as a backlink profile, are biased a little too much this way or that, then alarm bells ring and rankings may drop. Natural is the keyword in this context, but if SEO professionals stopped link building and left it up to spontaneity, firstly we would be out of jobs, but secondly it's unlikely a brand's website would rank for highly significant strategic terms. That would result in a lack of inquiries and importantly, conversions. So, what can to be done to achieve that all important natural backlink profile?
Building a Natural Backlink Portfolio
While it's tempting to only aim for sites with the highest PageRank, Moz domain authority or Linkdex influence score when undertaking article marketing, naturally a site would likely have links from new, less authoritative sources or, dare I say it, slightly poor ones. Therefore, actively seek out the PR0-3 sites and add them to the activity targets.
It's also unlikely links would only come from sites in your industry, so think laterally. An IT services business might have a link from a local hairdresser's personal blog as it fitted a wi-fi connection for her, but equally there could be one from a university at the other end of the country or an IT expert in another continent. As long as there is an appropriate relationship for this link to exist, that is, it's contextualised, then breadth of sector is beneficial.
The type of site is also important and this includes social media, even though the vast majority of social platform links are 'no follow'. As an aside, search engines have also gone on record to say social links are taken into consideration, so ensure on-site sharing functionality is up-to-date, with activity also being undertaken on the networks most suitable for the brand. Site types include blogs, news sites, directories and forums. A sensible balance is required in relation to the breakdown of the variety found across the web. Profiles that skew towards forums and directories often point towards irrelevant, spammy link profiles and if this is the case it may be worth an audit to see if any previous underhand activity results should be removed or even disavowed through Google's tool. However, a natural backlink profile would include links from all site types.
By reviewing the areas above it is easy to determine where resource needs to be applied. For example, a lack of news site links could indicate better integration is required between a brands PR and SEO teams. Or, if link sources are consistently deemed as low quality, perhaps in-depth articles should be created and outreached to some well-respected blog sites. Of course, as Google continues to highlight, one of the best ways to obtain links is to create bespoke, interesting, sharable content that people will want to naturally link to, descriptively, by way of a recommendation.