This week, we take a look at the relationship between SEO and design, sustainable link building and integrating social media and PR.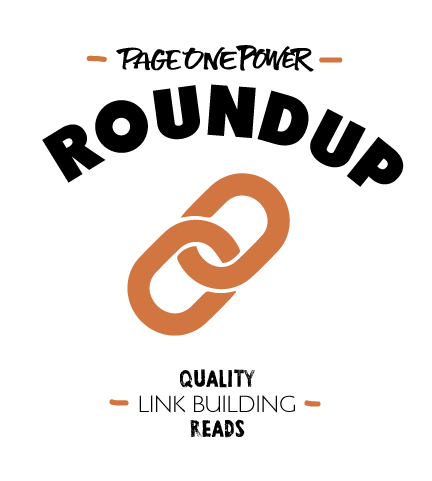 1. Social media and PR Integration, Do or Die via Search Engine Land
Trond Lyngbø's article for Search Engine Land highlights the need for adaptability, camouflage and accepting the need for change. Now camouflage isn't necessarily important for staying hidden among the multitude of sites on the World Wide Web, but keeping up with the latest SEO tactics and not sticking out to Google like a sore thumb are good strategies. The article says social media and PR can do this for any website. Building a trustworthy brand is possible by having a legitimate social presence and PR worthy of the public's eye. Google is smart and knows more about your customers than you, making white-hat SEO strong in Google's eye worthy of the marketing budget.
2. Sometimes it Feels Good to Revel in a Link Building Win via Find My Blog Way
Let's be honest, it can take a few tries to get a link right and acceptable to Google. It's a hard knock life being an SEO, so when you get a win, you should broadcast it to the world. This Find My Blog Way by Matthew Barby allows a few industry experts to do so. And we should all gather in a round of applause because while other companies may be our competitors, a job well-done is a job well-done. But it is also nice that they took the time to share their experiences so that we may learn from them and adapt our own unique link building strategy for our own success.
3. Making Design Part of SEO via Visual Website Optimizer
OK, building links is an important part of search engine optimization, but sometimes a website is in need of a darn good design. The more users interact with a website and stay on it to investigate the brand, the sooner Google will recognize it as a legit site. This starts with a good website design. An easily navigable site makes all the difference, but marketers can take it a step further with the tactics offered in this here article. Take a peek to make sure you are doing everything you can to optimize your site and allow for quality user experiences.
4. Timing is Everything with Link Building, Here's Why via Search Engine Watch
Popular topics and keywords go in and out of vogue more than we care to believe. But this is why it's important to make sure the website (and it's content and links) are current. Peter van der Graaf explains the lifecycle of a keyword and how reader sentiment aligns with the various stages of how that particular word or phrase. Along with this, van der Graaf also offers advice on how to channel link building activities depending on the stage of the keyword. Take note, as this may help with a lot of SEO editorial and link building strategies in the coming years.
5. Sustainable Link Building Made Easy via Search Engine Journal
We were all hit hard with the latest Google update, but it's long past, people, so get over it. What we need to think about is the future and how our link building program can withstand any Google storm that comes our way. We're always talking about how to make link building sustainable and useful for the future, but are we really taking this to heart? Well, Aaron Aders lays it out nice and easy for us in his Search Engine Journal article, first asking us to to do research, then channel our creative side and THEN he gets into the nitty-gritty details. You're welcome.
6. Keeping Those Creative Juices Flowing via Creative Market
Keeping with the theme of sustainable link building practices, this article on how to stay creative offer simple and easy ways to always keep those juices flowing freely. You yourself can be a major hindrance to innovation, so make sure to be conscious, take every effort to invest in personal creativity and listen to those around you, especially when creating a website and building relevant links to make it more contextually important.