Author's Note: This is a big post for us in a couple of different ways! It's a lengthy read and it's a bit big for our little blog, so I've included a few internal hyperlinks and a table of contents so you can navigate more easily. I want to thank Bill Sebald, Julie Joyce, Chris Dyson, Sean Revell and Chris Gilchrist for answering my stupid questions. I also want to thank Aaron Wall and Rae Hoffman for putting together some great resources 6-7 years ago. Finally, I want to congratulate Sean Revell on his new freelance career. Be sure to check out Sean's new website!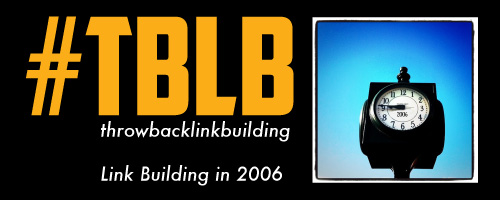 I realize this piece is very long, so I built this handy table of contents. You can click to jump around to whichever combination of themes and people interests you the most or you can read the post straight through.
Table of Contents:
2. We were Asking the Same Questions (Wall)
3. Success was Easier in 2006 (Gilchrist, Joyce, Revell, Sebald, Ball)
4. Outreach in 2006 (Sebald, Dyson)
5. Paid Links, Article Spinning and Spam (Fishkin, Hoffman, Ward, Revell, Dyson)
6. Link Building was Less Stressful in 2006 (Joyce, Sebald, Revell)
7.The 2006 Version of the Future (Joyce, Sebald, Revell, Dyson, Fishkin, Ward)
I started building links in 2012. I had no idea what link building was until the day I was hired, and I've been an avid internet user since I was a teenager. I imagine myself in college, frantically searching Google for hotels, flower retailers and 'the best dive bar in Louisville, KY,' blissfully unaware of the SEO practices behind my search results.
During my time in the industry, I've been privileged to meet some veteran link builders. The industry has changed drastically in the year I've been involved, so I wanted to ask them about a time long ago-- the year 2006. 2006 ended up expanding into 2007 and 2008 as well, but I'm sure you won't mind.
I also wanted to do some digging and see what some of the other big names in the SEO world were up to during those years.
Chris Dyson of TripleSEO starts us out with how he got started in 2006:
"In early 2006 I setup a blog promoting unsigned UK musicians. After a while I started learning more about SEO - as I mentioned to you before I recall stumbling on SEOBook in summer/fall 2006 and Aaron's 101 ways to build links.

After that it was an epiphany and I started putting more effort into my content finding exclusives, breaking news and carrying out interviews with unsigned acts (especially video interviews in 2007 onwards tied with linkbait headlines) which "earned" a lot of attention and links."
SEOBook is a good place to start.

The Same Questions
In SEOBook's 2006 roundup titled' How to Build Links Fast: 101 Tips & Strategies', Aaron Wall wrote:
"Link Building... Time-intensive. Frustrating. Sometimes confusing. Yet Unavoidable. Because ultimately, it's still the trump card for higher rankings."
That leads me to believe that building links has never been "easy"… but was it easier? Even back then people were asking "is link building dying? Will it be relevant in the years to come?" which is a question everyone in the industry can relate to now. It's good to see that the doubt and strife are not new developments.
Aaron Wall predicted that link building would still be the trump card in the foreseeable future, and for now it still is. What else were people concerned with? He predicted that Google would continue to devalue links that shouldn't count, which is undeniably what has happened.
It does seem that syndication and directories were much more valuable back then, but those trends have not faded completely. Paid directories, in particular, seemed to be pretty big, and Digg was more of a factor, too.
Spammy directories and spamming forums were still no-nos in the "White Hat" world back then, as was egregious blog spam. I actually see more blog and comment spam now than I ever did in the past, so I have to wonder if no one else got the memo from 2006. It could also be than I'm more tuned in now.
Some people, like Todd Malicoat of stuntdubl, were touting the values of relationship building 8 years ago. It's a huge buzzword now, so that's pretty crazy to me.
After combing through that SEOBook post to get an idea of how the link building world turned in 2006, I asked some friends and industry peers about their experiences from 2006-2008.
I also combed through some link building interviews from 2007 and 2008—I couldn't find much from 2006.
These are the results, with minimal commentary from me.

Success Was Easier
One theme I noticed from correspondence with my peers and perusing older interviews—it was easier to get good results with simpler tactics. My boss, Jon Ball, has confirmed this as well.
Let's start with ever-verbose Chris Gilchrist of Hit Reach, who talks about exact match domains:
"I used to pimp EMD's with social sharing and minimal 'good' content and spam them socially - and it worked really well, but I don't think it [elaborating on it] would be very interesting… "
Julie Joyce of Link Fish Media specifically mentions how she built links in 2006:
"Quickly and with very little care but massive success. Seriously. We could rank a new site in almost days with a few paid links. When I look at the links we built back then, I want to change my identity. Few sites were turned down for being crap. If someone said hey, here's 100 other sites, we wouldn't run away. Now? We run like hell."
Sean Revell of rvll.co.uk told me about agency life in 2008, and went into what kind of content was considered acceptable:
"You can see more about my first ever link via [Emma Still]'s excellent link virginity post but my link building days around 2008 were all about rewriting content for article submission sites, directory links, in house blog networks, blog commenting and social bookmarking websites. It's weird that the longer you do something the harder it is to stop. Directories WILL make a comeback."
Bill Sebald of Greenlane SEO told me exactly how he built links in 2006:
"Poorly. I was using the link: operator to find out who was linking to my competition, then pretty much going after them with an excel spreadsheet. Directories and forum board links were hot because PageRank wasn't as tuned up (or watered-down) as it is today… In 2007 I started working for big brands where link building wasn't an issue - everyone linked to them naturally, so I completely overlooked the development of scalable link building. In 2010 I had to pick up where I left off in 2006, and get myself up to speed on all the different tactics I missed. With that said, I still build links a lot like I did in 2006 - just with more of a marketing eye and better content."
I've also talked about the link building world in 2006 with my boss, Jon Ball, more than once. Those conversations were the inspiration for this post, in fact. In his piece 'The Legacy of Spam,' Jon writes:
"Years ago, your link building strategy may have consisted of generating about a thousand spammy links while playing a round of golf. In those days, you could submit a few keywords to certain websites, pay some cash, and head out for the afternoon. By the time you returned, a ton of links had increased your client's search rankings.

You were happy. The client was happy. It was that easy."
"Ease of use" seems to be a theme across the board, but let's look more into specifics and see which tactics people were using and how they accomplished their goals in more detail.

Outreach
Outreach is a big deal these days. Some blog owners and webmasters are swimming in spam email for questionable guest posts and link schemes.
Even when I started in mid-2012, outreach was a bit easier. Things have changed so much in the past year; I couldn't help be fascinated whenever someone mentioned outreach.
I definitely put a lot more time into my outreach now than I did a year ago. Each email is carefully crafted.
For some people, like Bill Sebald, it's always been that way:
"I still did plenty of personalized outreach. It was slow but effective."
Chris Dyson was kind enough to share two examples of actual outreach from 2006 and 2007 with me. During those times, Chris was working in the underground music niche: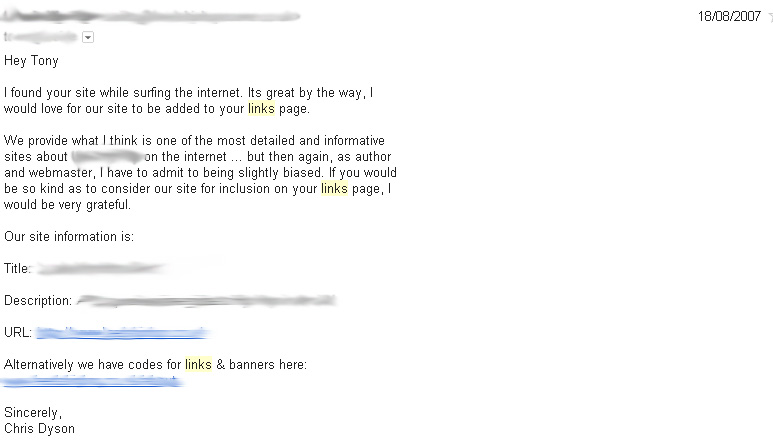 Chris said he was going to hang his head in embarrassment, but I think that outreach looks pretty effective within a music niche. If I ran a music blog it would at least get a response out of me.

Paid Links, Article Spinning and Spam
In 2006 and 2007, paid links were huge. Article spinning was not as much of a dirty secret. The spam had not been culled by wild animals.
Paid links, especially, were a fact of life.
Take a look at this 2007 link building group interview from Sugarrae, which features a whole section on paid links… and then another section.
In that interview, Moz's Rand Fishkin was very straightforward about paid links:
"I think that if you stick to personal link sales, i.e. those where the relationship between buyer and seller is direct, you can do very well with paid links. The problem is that link buyers expect it will be quicker and easier to buy links than to acquire them through non-monetized systems. In many cases, though, there's an equal amount of work involved. I wrote about this a bit more here."
You can still see some of the traditional Rand Fishkin inbound marketing values peeking through that statement, so it's no wonder that he was able to embrace the coming years with relative ease.
In that same interview Rae Hoffman, owner of Sugarrae and PushFire, (who curated the piece) wrote:
"Paid links should be treated the same as any other links. That is simply the way the world works. Some people buy their marketing, some create it via guerilla methods (like developing organic links) – but it all boils down to engineered results from marketing efforts. Spend more time learn to separate crap links from links from good sites instead of paid from organic. And I say this as someone who does not pay for more than 5-10% of the links across my entire legion of sites, and the number would be a lot lower if I didn't consider a directory a paid link."
Eric Ward, in that same interview, had a bit of a different take:
"It is 100% dependent on the outcome I'm expecting that link will cause, and the signal of intent that link may send to the search engines. That's a fancy way of saying I never buy links with the intent of improving search rank, because I just don't believe the risk is worth the reward. I know it's old fashioned, but I don't think it's helpful to make Google's job harder than it already is by seeding a bunch of paid links in nooks and crannies that might be credited as natural."
Ward, referring to paid links, also added, "Don't do it."
Sean Revell had a slightly different take on paid links:
"I had a reputation for not buying links, it wasn't because I was stingy or trying to save the business money but that I was too lazy to fill out a form or get in contact with the right person. Maybe I wasn't the best link builder they had at the time... It's foresight like this that makes me the SEO pioneer I am."
Chris Dyson talks not about paid links, but link exchanges and other spam:
"My initial efforts into link building started with link exchanges (i've attached one of my first ever link exchange emails) I was actually getting some success with this type of link exchange mainly due to the few bloggers and sites in my niche.

Around that time I started helping people I knew (friends of family/friends of friends) with SEO. For a lot of the search terms I targeted you only needed some decent onpage SEO and a few links from directories and associated businesses or article directories.

Towards the end of 2006 early 2007 I then moved into niche sites and began to scale up my article directory link building and started using automated tools/spinning software - it was the wild west, a lot of people I talked to seemed to be doing some form of automated link building or another and even though I was working a full time job as a business analyst for a blue chip company I was bringing in more each month with passive income from niche sites that I spammed to the top of the SERPs."
Less Stressful
We've taken a look at tactics, outreach and the ease of success, but what was the industry climate like? Right now it can be pretty volatile, and people have separated themselves into many different camps with differing opinions on "the right way" to optimize (though some have told me that feeling has been around for years).
Many search marketers and their clients are also nervous about current and future iterations of Penguin and Panda.
Julie Joyce notes that 2006 was a less stressful time:
"I'd just made a major move and left my secure agency job in 2006, and we'd been discouraged from getting too involved online sadly, so 2006 was a big awakening for me. It was when I went to my first conference and first started to meet people and interact both online and offline. It was more serene then because I wasn't running my own agency I suppose, and it did seem more fun to get into some little online wars. I met some of the people who remain my closest industry confidantes then though, so I'll say it was a good year."
"[The industry was] More chaotic but less stressful. There was less agreement on what worked with fewer people doing SEO. It wasn't a household name yet. I didn't have the expectations that came in 2007 when I started with enterprise ecommerce campaigns. Little tweaks (and fewer links) seemed to move the needle. PageRank sculpting still worked."
Sean Revell also agrees about the stress, but also mentions that the industry seemed more dynamic:
"The industry was a lot more exciting to me back then. I was learning a lot and trying to get as much information as possible, working on small adsense projects and trying to work out how I could make my millions. Unfortunately over time this enthusiasm has waned a bit. The industry was a lot less stressful to me and that is possibly down to less genocidal algorithm updates combined with a lack of seniority in my position. It's easy to not give a fuck if it's not your fault or problem.

In some ways social media and Twitter ruined the industry for me. I realised that the vast majority of people I respected from afar were mere mortals and not the SEO gods that I thought, never meet your heroes etc."
The Future
As an industry, we love to predict the future. We throw out so many predictions that it's gotten stale and boring.
On the other hand, it's interesting to ask people, in hindsight, what they thought the future would hold.
Julie Joyce never thought she'd still be cleaning up after shady SEO work:
"I never thought I'd be running my own company back then. I did think that link building would get harder, but I actually thought that paid links would have slowed down more than they have. I figured we'd be better able to see through some of the sham artists in this industry though, but in some ways that's gotten worse. I did not expect that 50% of the potential clients that come to us would be doing so because of being screwed by really awful SEOs who had no clue what they were doing and kept the clients in the dark."
Bill Sebald also mentioned how unsure he was about the future of the industry:
"I don't know if I had any clue. We had our "SEO is dead" posts coming out back then as well. I think I always knew Google would try to get more personalized, but didn't predict social media would have the impact it had. I remember worrying less about technical issues assuming Google would eventually overcome most of them, and worrying more about staying in step with Google's inevitably improved comprehension skills. I was half right."
Sean Revell, again, bucks the trend:
"I'm not sure I thought that far ahead back in those days or whether I even do now. If I was going to make something up (which I am) then I'd probably hope that Google didn't change too much and that I'd appreciate it if the techniques I were using would still be legitimate in 2013. I think I'd have been disappointed.

However, the changes that have happened in ze Google landscape over the last couple of years have helped me improve what I do, perhaps taking 'proper' marketing seriously and thinking from a more human perspective instead of a robot one. After all it's more enjoyable creating something of value rather than spamming blog comments :)"
Chris Dyson's vision of the future was also different:
"In 2006 I still had an immature outlook to SEO and I was merely paranoid of the Google Sandbox or my competitors outing me... although the forums spoke of manual penalties or the day Google would catch up with us I never really believed it. And don't think this was clever spam - most grayhats would baulk at the lack of thought processes that went into what I was doing at the time!"
In Sugarrae's 2008 group interview, Rand Fishkin said:
"I think we'll continue to see a focus on detecting paid links (both direct and indirect) and on trying to give heavier value to truly editorial links. I also think there may be a lot of activity around anchor text pattern detection and trying to reward sites whose link profiles are very natural."
In that same post, Eric Ward said:
"I have a gut feeling that as of today, for every 10 people trying to build an honest link profile, there are 90 people doing nothing more than seeking page one rankings regardless of the collateral damage along the way. So I'd expect Google to make some very solid advances in identifying those who seek to manipulate on behalf of junk."
Things were different in 2006, but I'm seeing a lot of repeating patterns as far back as 8 years ago. The industry changes so much that everyone is constantly questioning everything, and no one knows the answers. I think one constant is that people learn from their mistakes and they apply that knowledge to the future. That's why people like Aaron Wall and Julie Joyce are so successful in the SEO world—they can accurately predict which tactics will and won't work because they've seen the rise and fall of many tactics in the past.
In a few years, it will be fun to look back at link building in 2013… if link building still exists in a few years! (kidding)