This week: new link building tools, WordPress security and a parade of gifs!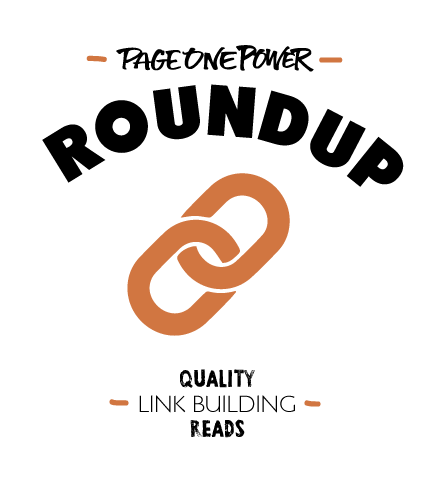 1. Building Links with Content Refresh via Greenlane SEO
Bill Sebald of Greenlane SEO unveiled a new link building tool last Wednesday, and he also wrote a blog post that explains how to use it. Basically, the tool helps you find outdated content, which you can update and potentially earn a link. There's a link to the tool embedded within the blog post. We've been playing around with the outdated content finder, and so far we're pleased with the results.
2. Don't Let Hackers in with Proper WordPress Security via Search Engine Journal
Recent attacks on WordPress websites have brought the importance of site security into perspective. It never seems like a threat will materialize into a problem until it's too late. Dragan Nikolic's article for Search Engine Journal goes step by step through the proper WordPress practices, security resources and trends, and how to set up a safe site to ensure protection far into the future. This is serious stuff, folks, but if you take care of it early and thoroughly, it doesn't have to be an issue your company will face.
3. Back to the Basics - Building Links for a Blog via Moz
Sometimes we get so wrapped up in our little SEO worlds, we forget to see the simple actions that make all the difference. Matthew Barby at Moz brings things back into perspective on his simple, yet enlightening blog post on link building strategies for blogs. Barby analyzes the various approaches and offers insightful methods for organizing and executing on a quality link building campaign. He suggests starting out by naming target links and gives ample examples of where to turn for this, from research to extensive blog opportunities to social media.
4. All You Needed to Know About Google Authorship and it's Impact on CTR via Justin Briggs
Ever wonder what Google Authorship had to do with CTR? Me too, but thanks to Justin Briggs, founder of Briggsby, we now have a rather in-depth analysis on how social media interaction, search engines and user habits all come together to affect website traffic. Briggs throws in a few interesting case studies and research that show a whole new perspective on how people view websites and search engine results. Definitely worth a look.
5. Google to Launch HTML Development Tool via TechCrunch
Google is coming out with an amazing and incredibly advanced new tool for professionals to create their own websites, and no one is surprised. They are however, excited. TechCrunch reported on the recent development and how the search engine giant hopes to provide creative experiences for professionals developing websites. The program, called "Web Designer," is said to be created for the benefit of creative agencies and designers. TechCrunch says there may be some interesting competition that arises from the new tool between existing HTML website builders.
6. The Benefits of Reusing Website Content via Active Internet Marketing
An infographic for your liking. Laura Nunnery at Active Internet Marketing provides us with ample information on how and why SEOs should repurpose their website content, including the link building benefits and lead generation opportunities that arise with the combination of oldie, but goody blog posts as well as freshly created content. The infographic displays how to recreate the content, what to do with diverse types of content and how to promote new material.
7. Understanding Business Listings via Moz
Moz is at it again with exceptionally useful content about the way business listings are conceived by David Mihm. Mihm makes a good point when he says that listings are an integral part of how Google ranks businesses. Yet, these listings don't just appear out of thin air, they have to be made and kept up for the duration of the company. In a short video with helpful visuals, Mihm explores how to optimize a listing for the benefit of SEO practices.
8. Monday Funday via Triple SEO
This one's not from last week-- it's from today! For all those out there who have the lucky task of building links for your company's website, here is a fun article by Chris Dyson of Triple SEO, Buzzfeed style. Do any of you relate?