DMOZ is a beautiful, still-functioning dinosaur. The Open Directory Project has been around since 1998, and it's sill useful, relevant and curated by humans. There are very few online entities that have remained as elegantly simple as DMOZ has for 15 years.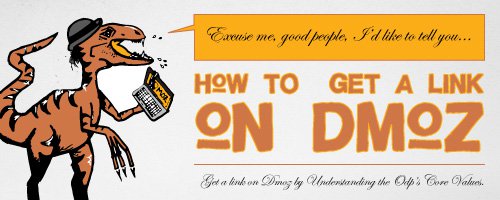 It was built with Usenet in mind and has evolved from there, but DMOZ's values remain the same—a human curated way to organize the internet.
Getting a link on DMOZ usually requires a great amount of time, a bit of luck or an inside connection. There are many people who are not even aware of what DMOZ is. For certain online publishers, though, a link from a relevant DMOZ category is a big home run. The question is—how do you hit it out of the park?
Well, Jon Cooper of Point Blank SEO already wrote a few words about it, and he also rounded up advice from a few other SEO experts. Check out 'How to Get A Link From DMOZ in 2013' before you go any further here, or at least when you're done reading this post. I'm going to focus on the human aspects of DMOZ, but Cooper and his guests offer valuable insight and experience.
Website Boot Camp
Before you look to DMOZ, you need to take a look at your website itself. How easy is it to find an 'about' page? A 'contact' page? A 'values' page? How simple is your company description? You need to clearly outline exactly what you do in as few words as possible—and make that information very easy to find.
In Cooper's piece, Chris Gilchrist of Hit Reach has a few wise words about exactly that,
"[I made] the company details blatantly obvious on the website and use a very dry company description on the submission.

This leads me to believe the editors don't want to spend time hunting around trying to establish the legitimacy of the site and by making it very easy and quick you greatly increase your chances of inclusion.

This makes sense to me given that amount of crap on the internet and the amount of submissions DMOZ editors must have to process. Spam sites can look so good, many are better than some real company's sites, so by offering credentials to quickly validate the sites quality you are saving them a bunch of work."
The editors are going to judge your site, and you need to make it look presentable. As Chris says, make it easy on them. They already have a lot to wade through, and you need to stand out—think of how many resumes leading companies must throw out after a precursory 2 second glance, and then think of your website as your resume. Be the resume that actually gets read.
How to Approach an Editor
First, let's think about why someone might devote their time to DMOZ in the first place.
Why Does Someone Become a DMOZ Editor? It's because they want to be a part of something larger. They believe in a human-curated internet that doesn't rely on algorithms or web spiders. They're involved.
If you're going to speak with a DMOZ editor, be courteous. They don't owe you anything. Relate to them on a human level and please don't act with a sense of entitlement. These are your peers—they're sculpting their vision of the internet, and you're hoping to be part of the final product. If you find an editor and approach one of them, those are the things to keep in mind.
Think like an Editor
Here's where the values part starts to come in—if the editors know you respect their time and are making it easy for them, then you have a much better chance of success with DMOZ. The point of DMOZ is to curate an internet directory that uses no automation, which means that every single link is approved by a human being.
Think about the staggering amount of links they're going through and then think about how to make it easier on their eyes and easier on their brains.
These editors are already trained to look for spam and, as Chris Gilchrist mentioned, spam is often nicely designed. You need to do something that lets the editor know there are human beings behind your site while simultaneously making that something easy to find. Photos of you and your staff, along with easy-to-find and concise company descriptions are the key.
You might also try adding some humor and personality. DMOZ editors are like anyone else—if they laugh or feel a connection, they're much less likely to throw your site in the 'reject' bin after a 10 second glance. You also need to make sure that your site is actually a valuable fit for the relevant section—it's much harder to get a link on DMOZ if you're trying to BS your way through it.
With thousands of submissions, there's no doubt that the editors have little patience for BS.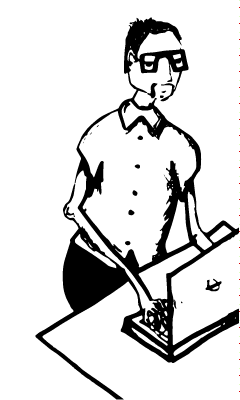 DMOZ Values
We already have a good understanding of what every DMOZ editor personally values in regards to his/her time and energy, but we also need to take a look at the values of the directory itself.
The DMOZ 'about' page reads,
"The Open Directory follows in the footsteps of some of the most important editor/contributor projects of the 20th century. Just as the Oxford English Dictionary became the definitive word on words through the efforts of volunteers, the Open Directory follows in its footsteps to become the definitive catalog of the Web.

The Open Directory was founded in the spirit of the Open Source movement, and is the only major directory that is 100% free. There is not, nor will there ever be, a cost to submit a site to the directory, and/or to use the directory's data. The Open Directory data is made available for free to anyone who agrees to comply with our free use license.

The Open Directory is the most widely distributed data base of Web content classified by humans. Its editorial standards body of net-citizens provide the collective brain behind resource discovery on the Web."
This is purely a human effort, so with that in mind it's going to be nearly impossible to get a link from DMOZ if there's anything robotic about your submission. It's also a non-commercial, open source endeavor, so if you go in with dollar signs flashing in your eyes they will probably also smell that. There are plenty of eCommerce and other commercial enterprises listed on DMOZ, but they have to include something that an editor might find real value in. If you're putting your time and effort into a website, chances are there's some real value there.
Think hard on how you can convey that effort through your site without looking like a robot or a cattle rustler.
Simply put, keep DMOZ's core values in mind while you're examining your site.
If You Can't Beat 'Em
There's still a good chance that your submission won't get approved, but there's one last ditch tactic you can use—become an editor yourself. In Cooper's piece, several different experts name becoming an editor as the only surefire way to get a link from DMOZ, and it seems to be a popular tactic.
Before you become an editor, though, let's take something away from that process. If you sign up for an editor position at DMOZ, it's because you have one goal in mind—to get your site listed. You're biased. That means that many other editors carry the same bias you do. They're human and that's what you're working with.
It's unlikely that any DMOZ editor has a vendetta against your site, but it is likely that they're working toward a goal and brushing you off. If you've thought of it then someone else has thought of it. You wouldn't be the first editor to approve your own site.
John Doherty of Distilled writes,
"Getting accepted to be an editor is not very hard, but you do need to prove yourself by adhering strictly to the guidelines and building your credibility as an editor. Then, apply to be the editor for the category you would like to be in. It's important to note that you should not put in your own link before you have gone through the whole queue of links waiting to be approved.

I had a client who did this, who put in the work to become an editor, build their name, and then become the editor of two more categories. They were finally able to acquire two links from DMOZ, but it took a solid 15 hours of work. I'm not sure it was worth it, but they got DMOZ links in the education space."
So, is that 15 hours worth the end result to you? It might be if you make a positive contribution. Even if your end goal is getting your site listed, you can help DMOZ achieve its mission of providing a great, human-curated resource. If you've been analyzing your own website and considering how to not come off as a spammer, then you can easily identify the actual spammers in your section. You can add good resources from people that might not otherwise get a second look.
At the very least, you're making the internet a better place in those 15 hours.
If you haven't already, go read through all of Jon Cooper's post and combine it with this one. Start forming a plan using everything you've learned.
The takeaway from this is that there's no sure way to get your site listed on DMOZ unless you do it yourself, and that is not an easy road—it comes with plenty of hard work and responsibility. You can, however, keep DMOZ's core values in mind before and during the submission process, which will yield better results than going in blind.
Summary:
* Make sure your website is up to snuff
* Understand why editors are involved with DMOZ
* Understand DMOZ's core values
* Make your submission stand out with contact info, humor, photos of your staff, etc.
* If you're going to approach an editor, do it like a human being
* If all else fails, become an editor but prepare for the workload
If DMOZ is worth it to you, prepare to either put in the effort, understand the editors and the project, think like an editor and submit your site a few times, or take on the workload and become an editor yourself.