Editor's Note: Today's guest post comes to us from Brian Dean of Backlinko. We're glad to feature this post-- not only did Brian do a great job with his presentation, but the information is incredibly valuable as well. So let this be an example to you: list posts can be great!

Broken link building.
Guest blogging.
Infographics.
Can you say yawn?
Are you looking for something fresh and bold to add to your link building campaigns?
Then you'll love these actionable strategies that you can use to build links today.
#1: Quizzes and Games
If you really want to engage people with your content, an interactive quiz or game is one of the best ways to do it.
In fact, former SEOMoz employee Matt Inman used quizzes to dominate some of the most competitive niches online, like dating and loans.
Using a quiz-focused link building campaign, he was able to rank his sites for insanely competitive keywords like "Cash Advance" and "Free Online Dating".
To show you how powerful this technique can be, here are the link metrics from an SEO quiz developed by SEOMoz:

Imagine how epic a blog post would have to be to get those kind of links!
A quiz build links in two ways:
People link back to your quiz because they think it's cool
Site owners embed your quiz as a widget, which automatically links to your site
You can get a quiz made for you at a freelance site like Elance.com. But if you have design talent, the WP Pro Quiz plugin can be customized to make eye-catching, functional quizzes.
#2: Buddy Guest Blogging

This is a little grey hat, but it works.
Have you ever worked your tail off writing a killer guest post for another site...
...and was "rewarded" with an author bio link that's pushed so low on the page it might as well be a footer link?
I hate that!
You already know that contextual links are much more powerful than a link trapped inside a hidden author bio box.
That's where Buddy Guest Blogging comes in handy.
Here's how:
Instead of writing and submitting the guest post yourself, hire a freelancer or an SEO firm (your buddy) to do it for you.
When their post gets published, they get author bio link, with one condition:
That they link to your site as a resource somewhere within the content.
That way you get the contextual link you need without having to sneak it into your guest post.
#3: Reverse Image Search
Do you ever use original images, graphs or infographics on your site?
If so, you may be missing out on a huge link building opportunity that's literally starting you in the face.
You'd be surprised how many people grab your images to post on their own site...without hooking you up with the link you deserve.
But you can get at least some of those site owners to link back to you.
You just have to:
Find them
Ask them for your link
First, upload your original image to Google Reverse Image search.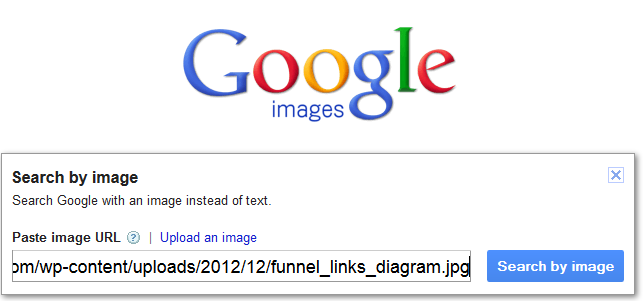 Then, check to see if it's been posted anywhere without an attribution link.
If you find one, send the site owner a friendly "reminder" that they should link to you.
There's no need for cease and desist letters and subpoenas: just ask nicely and you'll usually get your link.
#4: Podcast Reachouts

You already know that most authority site owners get 101 guest post pitches every single week.
And if you want authority backlinks, why be guest author #102?
Instead, offer to be an interviewee for their podcast.
I stumbled across this idea by accident when I noticed author Jonah Berger as a guest on a bunch of my favorite podcasts, including the Smart Passive Income and Social Triggers podcasts.
Just look at this:
15,300 results? Holy cow! That's a lot of results.
Most people that run regular podcasts are desperate for quality guests.
Instead of another another 600-word post, you're offering them something they actually need.
The best part?
You get a contextual link from the site when the podcast gets published.
#5: Time Machine Link Building

I originally learned this technique from Nick Leyroy's blog.
It's a little evil...but it's brilliant.
Here's how it works:
1. Find resource pages using these search strings:
"your niche" + "resources"
"your niche" + "helpful links"
"your niche" intitle:resources
2. Check for broken links using at tool like Domain Hunter Plus or Xenu Link Sleuth.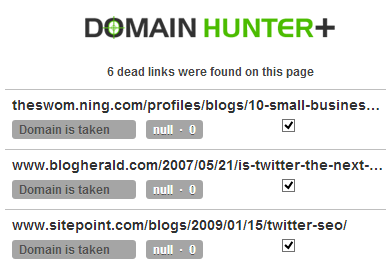 3. When you find a broken link, check to see if the content has been saved at Archive.org.

If so you'll see something like the image above. Click on some of the results to find the latest cache of the page.
4. Use the content on your own site, use it as a guest post, or as blog network content.
5. Once you've posted the content somewhere reach out to the resource page owner. Let them know if the broken link and your very "similar" replacement.
#6: Top Commentators Wordpress Widget

Do you want blogroll links from authority sites in your niche?
Did I mention that they're free?
No, it's not too good to be true.
You just have to find blogs that use the top commentators Wordpress plugin.
Site that use these plugins list their top commentors in their site's sidebar, with a dofollow link to the commentors' sites: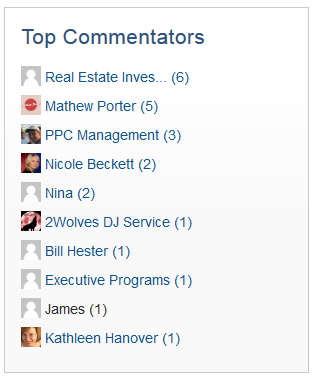 All you have to do is find niche-relevant sites with this feature and comment on their site. They usually list the number of comments the current top commentators have. That way, you know exactly how many comments you need to get listed.
#7: Product Testimonials

Is there an internet marketing product that you absolutely couldn't live without?
If so, check out the product's site.
They usually have a testimonial page that you can use to get a solid backlink.
Because sites link to their testimonial pages all the time, these page are usually one of the most authoritative on the entire site.
For example, let's say that you use Buzzstream to manage your white hat link building outreach.
Why not send them an email to let them know how much you love their product?
If they like your testimonial, they might just post your kind words (and link) on their PR3 testimonial page:

Like any link building technique, these require a little digital elbow grease to work.
But if you take the time to put them into practice you'll rock the casbah with handfuls of powerful backlinks.