Editor's Note: Page One Power is pleased to announce our weekly link building roundup. Each week, we'll feature articles from the best and the brightest the industry has to offer. We'll normally schedule these roundups for Monday, but today is Wednesday. Life is unpredictable sometimes. Without further ado, here's our first roundup!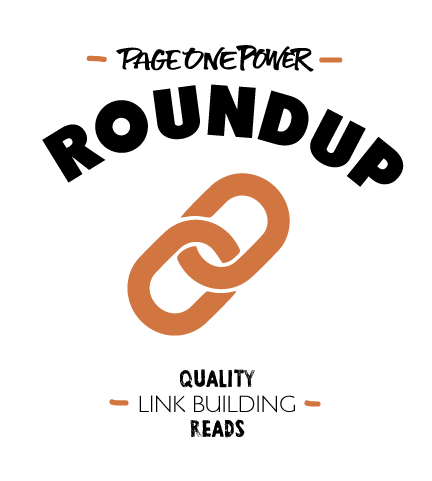 Here are last week's words of wisdom and why you can't afford to miss them:
1. Spread a Kind Word via Search Engine Land
In a post sponsored by yours truly, Julie Joyce talks about benefits branching out out to write about, and link to, other industry experts. While it is important to promote your own company website, promoting other people's work, offering diverse content and building connections will undoubtedly build the brand and website reputation. It's about creating lasting friends, really. But it is always smart to plan a good interview or crowdsourced piece outreach strategy, make the experience unique for both parties and promote the heck out of the fruits of your labor.
2. Video Interview With Alan Bleiwess via Search Engine Journal
Bleiwess preaches quality, quality, quality in a web series interview on SEO and link building practices. The SEO expert chats candidly about how to build unique experiences and communicate personal brand to industry communities. In a straightforward and passionate account of how he found success, Bleiwess stresses the importance of natural, pure content that is based on personal experiences. The best way, as it turns out, is to be yourself and build links because they make sense to the overall story, not because search engines are on the prowl.
3. Time to Think Like an Engineer via Search Engine Watch
It may sound intimidating, but don't be scared, thinking like an engineer is easier than you think and can be incredibly beneficial to a link building campaign. Just remember that it's all about the process. Search Engine Watch lays it out nicely, starting with defining a vision for the SEO strategies, conducting plenty of research, mapping the strategies out, working on design and text requirements, and ending with the design details and producing content to fit the plan. Making every specific step count will lead you to success.
4. Link Removal Fees are Breaking the Bank via SEO Roundtable
Beware of the dreaded link removal fees, as they are putting some SEOs in the poor house. OK, not really, but Google is really cracking down on poor links, and it's costly to take down links that are hurting a company website, as a webmaster claims on WebmasterWorld. Turning to services like the Google Disavow Tool may help for this type of situation, as it offers a way out without having to pay for removal of the bad links.
5. Positives of Press Releases on Matt Cutts' Blog via Search Engine Land
Challenging Matt Cutts' previous statement that press releases don't "benefit your rankings," SEL proved otherwise on a few different occasions. In the past, the news source claimed Google uses links in press releases as well as anchor texts to rank websites. But, more recently, it found more solid evidence that Google uses links in press releases to rank websites, including Matt Cutts' blog, where a release had been posted a few days prior.