Here are last week's words of wisdom and why you can't afford to miss them: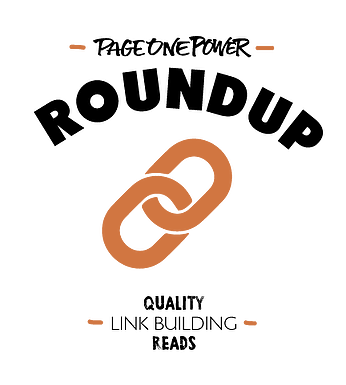 1. SEO Experts Speak Out on Creative Link Building Techniques via Point Blank SEO
This post is from last month, but it's definitely worth a look if you haven't checked it out yet. Asking top SEO experts a simple question - "What was the most creative way you, or someone you know, got a link?" - has yielded big answers. Point Blank SEO offered 52 responses from industry professionals that may just blow your mind. Check out their responses for link building outreach ideas and more. Sneak peek: One response said the most creative ways seen to get a link include a hoax or a practical joke - a tactic that resulted in not only great brand awareness but a few quality links, as well. Intriguing!
2. Secretive Link Building Tips that Could Rock the House via Search Engine Journal
Sometimes the answer to all your SEO worries and troubles are right in front of your face, yet are still being ignored. It's OK, it's this way for a lot of people. That's why we're so thankful ResultFirst offered up these easy tips on how to create awesome SEO content with great link building strategies. The seemingly unconventional tactics, including anchor text tips, developing the brand across various online mediums and, simply enough, hard work, may be the key to quality material and increased traffic. How willing is your company to make its website's sustainable and respected?
3. Public Relations and SEO Go Hand in Hand, Here's How via Search Engine Land
Casie Gillette dives right into the inherent link between SEO and public relations - something that is often overlooked by many companies. The similarities between the two departments are uncanny, and using PR strategies to gain links and improve SEO may be worth it for many businesses. After all, it is all about how to spread the brand image in the industry, right? Gillette goes into how, why and when companies should start seeing their link building strategies in a different light. New insight into the complex world of SEO is always appreciated.
4. Google's Got Updates and Gadgets Up Its Sleeve via Google Blog
Last week the sixth annual Google I/O developer conference began in San Francisco, and the first day alone was chock-full of fun announcements about Google gadgets and tool updates. A few highlighted on Google's Blog include the new Chrome advances, how Google Plus is seeing a user experience upgrade, what to expect from searches and how Google Maps is becoming more customized for each user. This is exciting, and SEOs are waiting on the edge of their seats to see how these recent changes will affect their websites and any aspects of their campaigns.
5. How to Make Past Website Content SEO-friendly via SEOmoz
Not only do web pages take up a lot of space, they can also have a particularly negative effect on SEO and page rankings. SEOmoz offered a video with Rand Fishkin on how to continue improving on SEO while also deal with the dead weight of previous posts. Fishkin offers info on how to deal with external links for older URLs, using press releases, blogs and social media, how to reclaim links and more. SEO is an infinite process that doesn't always involve moving forward - sometimes you need to take a step back and figure out how to make the general site more reputable to those reading it now and in the future.
6. A Few Tips for eCommerce Link Building via Search Engine Journal
eCommerce sites, get your weekly link building tidbit here! Yes, building quality links is hard and ecommerce sites may have an especially hard time, but that certainly doesn't mean it's impossible. Search Engine Journal offers a variety of easy and intriguing ideas to garner more links to make the site rank better while attracting more of the target audience. Invest in the world of ecommerce link building, and you'll find that there is a lot at your fingertips to make that website bring a whole lot more to the plate.